EV Group, (EVG) and SwissLitho AG, have announced a joint solution to enable the production of 3D structures down to the single-nanometer scale. Initially, it was demonstrated within the "Single Nanometer Manufacturing for Beyond CMOS Devices (SNM)," a project funded by the Seventh Framework Program of the European Union.
The joint solution involves SwissLitho's novel NanoFrazor thermal scanning probe lithography system. This system produces master templates with 3D structure for nanoimprint lithography (NIL) and EVG's HERCULES® NIL system with SmartNIL® technology to replicate the structures at high throughput.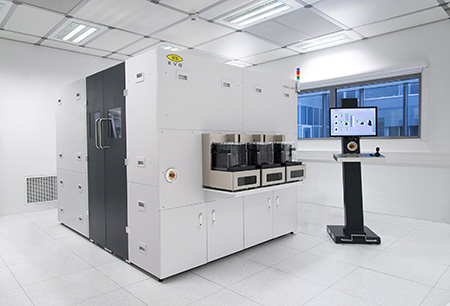 The HERCULES NIL system (EVG)
EVG and SwissLitho will initially target the joint solution for developing diffractive optical elements and other related optical components that support photonics, data communications, augmented/virtual reality (AR/VR) and other applications. It also has the potential to expand to biotechnology, nanofluidics and other nanotechnology applications.
The SwissLitho's NanoFrazor system is part of the joint solution. This system will be used to create imprint masters. Compared to conventional approaches, the technology can print 3D structures with accuracy. EVG's HERCULES NIL system will be used to create working templates for production use, cost-effectively and at a high throughput, using the company's proprietary large-area nanoimprint SmartNIL technology.
Thermal scanning probe lithography was invented at IBM Research in Zurich and was acquired by SwissLitho AG. This is the technology behind the NanoFrazor. The maskless, direct-write lithography approach involves spin-coating a unique, thermally sensitive resist onto the sample surface before patterning. A heated, sharp, tip is used to decompose and evaporate the resist locally while simultaneously inspecting the written nanostructures. The resulting arbitrary resist pattern can be transferred into almost any other material using lift-off, etching, plating, molding or other methodologies.
The HERCULES NIL combines EVG's expertise in NIL, resist processing and high-volume manufacturing solutions into a single integrated system that offers throughput of up to 40 wph for 200-mm wafers. The system's configurable, modular platform accommodates a variety of imprint materials and structure sizes. This gives customers flexibility in addressing their manufacturing needs. It also has the ability to fabricate multiple-use soft stamps that help extend the lifetime of master imprint templates.
To learn more about the HERCULES NIL UV-NIL track system, visit the EV Group site here.
To learn more about the SwissLitho's NanoFrazor technology, visit the SwissLitho site here.