Mouser Electronics, Inc., is now stocking the Adafruit GEMMA M0 development board. The board is the latest generation of Adafruit's GEMMA series. GEMMA M0 is a tiny, 28 mm x 7 mm microcontroller board with alligator-clip sew pads for solderless wearable applications.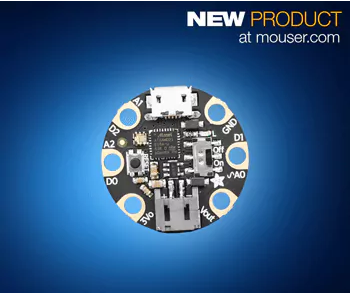 Source: Mouser
The Adafruit GEMMA M0 adds power to the original GEMMA board's ease of use, replacing the ATtiny85 microcontroller with a more powerful Microchip ASTAMD21E18 Arm® Cortex®-M0+ microcontroller, 32 kB of RAM and 256 kB of flash. The microcontroller has native USB supported by every operating system, removing the need to download additional software.
The board ships with Adafruit's CircuitPython programming language, so makers and engineers of all skill levels can use the GEMMA M0 out of the box without downloading software. Additionally, the board supports the Arduino integrated development environment (IDE). The board has an on/off switch, reset switch, JST battery connector and a built-in Adafruit DotStar RBG LED.
GEMMA M0 boasts three general-purpose input/output (GPIO) pads, each with 12-bit analog input or digital input/output and supporting capacitive touch. The pads use the same names as the original GEMMA development board for ease of use. This also means that any existing Arduino code will continue to work without changes with the GEMMA M0. All three pads can be used as hardware capacitive touch sensors, and they can drive NeoPixels or DotStars on any pins.
To learn more about this, visit the Mouser site here.