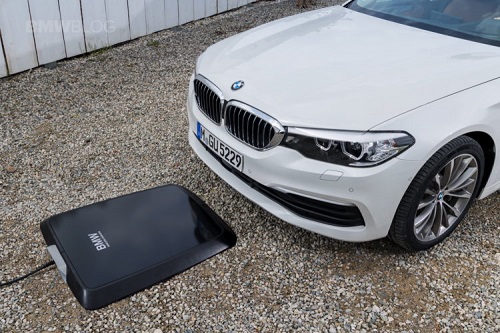 The prototype inductive wireless charging system. Source: BMWWhile the idea of establishing an electric car charging station network across various countries continues to gain momentum, one of the more interesting ways that has been discussed to accomplish this task at home or in public is through inductive wireless charging.
BMW is looking to make a big splash with inductive charging with its prototype technology that will allow electric cars to simply park above a charging port and have the vehicle recharged wirelessly.
Inductive charging involves a base plate with an integrated primary coil. A floor plate is then used to charge the lithium-ion battery of the car in combination with a secondary coil installed on the vehicle floor. The floor plate can be placed either in a garage or outdoors. A magnetic alternating field is generated between the two coils with an output of up to 3.2 kW that can be transmitted inductively.
Initially, the platform will be used in the 530e iPerformance BMW electric car and when the car is parked over the BMW Wireless Charging loading plate, the battery can be fully charged within 3.5 hours. The iDrive on board the car helps drivers line up the floor plate on a display for correct positioning.
Following the initial roll out of the charging system for the 530e, all other electric cars and plug-in hybrids will be able to use the system. BMW says the wireless charging electric car system will be available beginning in 2018.
BMW will offer the wireless charging system as an option at dealerships where drivers will have to buy the floor plate as well similar to a conventional wallbox solution.
While BMW has not yet determined a price for the inductive charging platform, the company says it should be only slightly above the current BMW iWallbox Pro, which is priced at about $900.