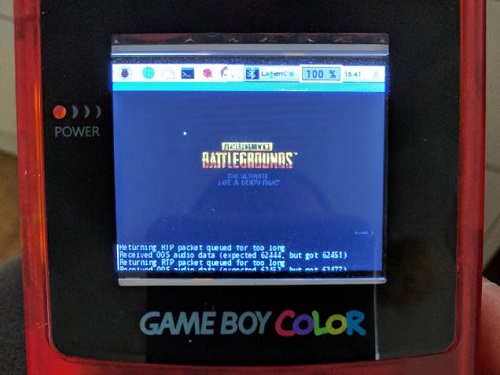 "Player Unknown's Battlegrounds" played on a Game Boy Color. Source: Michael Darby
"Player Unknown's Battlegrounds" is one of the highest selling video games in recent memory, eclipsing 10 million copies sold earlier this month. It took the mega-popular "Minecraft" about two years to get there. "PUBG" did it in six months.
Generally, the game, which pits about 100 players in a battle royal-type fight to the death, is played on a fairly decent performing desktop or laptop PC using a mouse and keyboard.
Now, a maker has created a custom-built Game Boy Color that allowed him to stream the game from his PC to the Nintendo handheld using Moonlight software and a Raspberry Pi Zero W developer board.
The maker, Michael Darby, gutted the original Game Boy Color and replaced it with the Raspberry Pi, a 3.7-volt lithium-ion polymer battery (LiPo) battery, a thin-film-transistor liquid-crystal display (TFT LCD) screen, an SD card, Adafruit Powerboost 500c, Adafruit Pi TFT 2.2 and various other off-the-shelf components for the Game Boy Color player.
However, the Raspberry Pi is insufficient to run "PUBG" so using Moonlight software, Darby streamed the game from a desktop PC.
The result is the ability to play the game, but with extremely limited functions — he couldn't jump, reload a weapon or drive a car. Still, it is a pretty cool trick and shows just how much you can do with a little time and ingenuity.
Darby explains in detail how he created the project on hackster.io if you want to build your own.