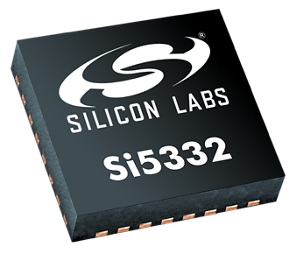 The Si5332 clock generator. Source: Silicon LabsSilicon Labs has introduced a new family of clock generators targeted at integrated timing solutions for 10/25/100 G Ethernet applications.
The Si5332 clock generators integrate Silicon Labs' MultiSynth clock synthesis technology for better frequency flexibility and jitter performance of 230 full-scale root-mean-square. Options span six, eight and 12 clock outputs, enabling clock tree consolidation for applications such as hyperscale data center switches, servers, storage, networking, small cells, broadband, broadcast video, multi-function printers and industrial devices.
Central processing unit phase-locked loops have lower jitter requirements but often use spread spectrum clocking to minimize electromagnetic interference. Unlike these timing products, the Si5332 clocks generate all SerDes, processor and system clocks in a single-chip device while providing a significant jitter margin, enabling system developers to simplify clock trees.
The Si5332 any-frequency clocks are available now with 10,000 unit quantities starting at $4.25 for the six-output device and ranging to $4.90 for the 12-output clock.