Fluorescence microscopy is a powerful tool and remains the gold standard for biomedical research and clinical applications, but it has its limitations. Tabletop-type fluorescence microscopes are relatively bulky and expensive, due to the series of lenses and mechanical structures required for focusing lenses.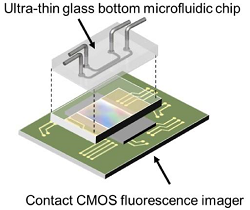 A diagram of the on-chip fluorescence imaging platform showing how the ultra-thin glass bottom microfluidic chip sits on top of the contact CMOS fluorescence imager. (Credit:Takehara et al) The advent of on-chip contact (lens-free) imaging techniques can bring a measure of automation and cost-effectiveness to this technology. To demonstrate these, Japanese researchers developed and tested an on-chip cell analysis platform based on contact fluorescence microscopy and microfluidics. The platform combines complementary metal-oxide semiconductor (CMOS) technology and an ultra-thin glass bottom microfluidic chip.
Microfluidic channels in the disposable chips are designed to culture cells and admit culture media and other biological molecules. The thin glass bottom minimizes the distance between the cells and the contact sensor below. The CMOS image sensor detects the fluorescence emitted by the cells, turns it into an electronic signal and then reconstructs the image.
Researchers from the University of Tokyo and Nara Institute of Science and Technology grew cells containing fluorescent dyes in their nuclei within the microchannels. When the cells were exposed to endothelial growth factor (EGF), which causes cell proliferation, the cultures gave off a more intense fluorescence signal than cultures that were not treated with EGF, indicating that the sensor detected cell growth.
The on-chip fluorescence microscopy platform yields images with poorer spatial resolution than those of conventional fluorescence microscopes. However, the researchers say that it offers the advantage of being compatible with fully automated systems. The platform's small size and affordability also make it attractive for use in implantable devices for measuring glucose or even brain activity.
The use of the system for monitoring stem cell production for use in regenerative medicine and for screening new drugs will be evaluated.