Two microscope technologies are better than one, especially when the combination yields sharper images of rapidly moving processes inside a cell. The National Institute of Biomedical Imaging and Bioengineering (NIBIB) combined instant structured illumination microscopy (iSIM) and total internal reflection fluorescence (TIRF) microscopy to realize the benefits of both.
TIRF microscopy illuminates a sample at a sharp angle so that the light reflects back, highlighting only a thin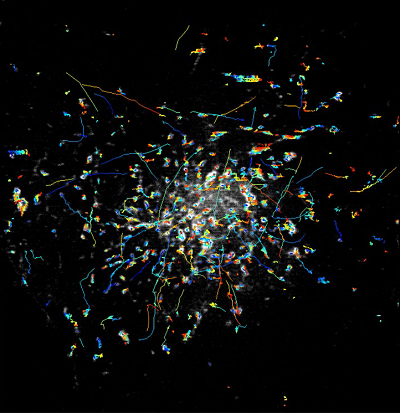 The rapid movements of Rab11 particles can be clearly imaged with the new instant TIRF-SIM microscope. Source: Hari Shroff/ NIBIBsection of the sample that is extremely close to the coverslip. This process creates high-contrast images because it eliminates much of the background, out-of-focus light that conventional microscopes pick up. However, the instrument produces blurry images of small features within cells. Super-resolution microscopy techniques applied to TIRF microscopes improve the resolution, but speed is compromised, making it impossible to clearly image objects that move rapidly.
The iSIM technique developed by the researchers in 2013 captures video at the incredibly quick pace of 100 frames per second, but this technology does not have the beneficial contrast obtained with TIRF microscopes.
To combine the benefits of both devices, the researchers modified a iSIM unit to function as a TIRF scope. A simple "mask" was devised to block most of the illumination from the iSIM, resulting in a system that mimics the TIRF technology. The combination enabled observation of rapidly moving objects about 10 times faster than other microscopes at similar resolution. Spatial resolution is improved without undermining speed.
With the new system, the researchers were able to follow rapidly moving Rab11 particles – regulators of intracellular membrane trafficking – near the plasma membrane of human cells. These particles are normally blurred when imaged with other equipment. The dynamics and spatial distribution of HRas, a protein that has been implicated in facilitating the growth of cancerous tumors, were also easily observed.