A stretchable and waterproof ultra-thin photovoltaic device that can be used as an electronic wearable, textile-compatible photocell was developed by scientists from the Japanese research institute RIKEN Center for Emergent Matter Science in Saitama, Japan, and the University of Tokyo.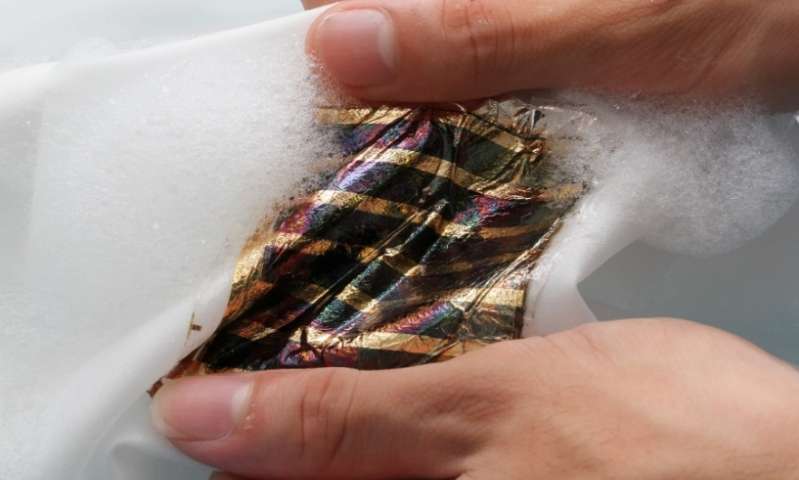 A photo of the ultra-thin organic solar cells. Source: RIKEN
The photovoltaic device is coated on both sides with a waterproof, stretchable thin film that allows the device to provide electrical energy even when it is submerged in water or stretched and compressed. This development will advance the concept of creating wearable solar cells that can be incorporated into textiles, worn on the body as sensors to monitor human functions like heartbeats, or detect early warning signals of possible medical problems.
The researchers, led by Takeo Someya at RIKEN, made the cells of the material PNTz4T – developed in earlier work. Early testing results show a high energy conversion of 7.9 percent, generating 7.86 milliwatts per square centimeter when subjected to artificial sunlight of 100 milliwatts per square centimeter. During testing, the cells lost only 5.4 percent of efficiency after being immersed in water for two hours.
Kenjiro Fukuda, a co-author of the research at RIKEN, said of the device: "We were very gratified to find that our device has great environmental stability while simultaneously having a good efficiency and mechanical robustness. Our solar cells can easily be attached to clothes. As textile-compatible power sources, our washable, lightweight, and stretchable organic photovoltaics will open a new avenue for use as a long-term power source system for wearables, electronic textiles, and other sensors for the internet of things in the future."
The result of the research was published on September 18 in the journal Nature Energy. An abstract can be found on their site.