Stop the scattering of light and an object can become invisible. An international team of researchers has devised technology to do just that, and render materials transparent.
A completely opaque material is irradiated from above with a specific wave pattern – with the effect that light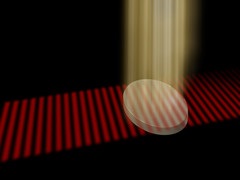 After a material is irradiated with a specially designed pattern, a light wave can pass through the object. (Source: Technische Universität Wien)waves can now pass through without any obstruction. A pump beam typically used for building lasers transfers energy into the material in a spatially tailored way so that light is amplified in exactly the right places while allowing for absorption at other parts of the material. A beam with the right pattern, corresponding to the inner irregularities of the material which scatter light, must be projected onto the material from above. This projection can stop the scattering and allow another beam of light traveling through the material from one side to pass without any obstruction or loss.
"Mathematically, it is not immediately obvious that it is at all possible to find such a pattern", says Professor Stefan Rotter of Technische Universität Wien (Vienna, Austria). "Every object we want to make transparent has to be irradiated with its own specific pattern – depending on the microscopic details of the scattering process inside. The method we developed now allows us to calculate the right pattern for any arbitrary scattering medium."
Computer simulations confirm that the method works and initial experiments may involve sound instead of light waves.
Researchers from the University of Crete and Florida State University also participated in this study.