Upon watching Star Wars as a child, Alexander Lippert felt a disturbance in the force. He knew there had to be a way to replicate the technology used by R2-D2 to project a hologram of Princess Leia.
Now a chemist at Dallas, Texas-based Southern Methodist University (SMU), Lippert and his team are using photoswitch technology to create animated 3-D table-top objects. The resulting structures aren't holograms or 3-D computer images, which are flat displays that use binocular disparity or linear perspective to make objects appear multi-dimensional.
The new technology is based on a molecule that switches between non-fluorescent and fluorescent phases in reaction to the presence or absence of ultraviolet light. The approach structures light in three actual dimensions to produce objects viewable from 360 degrees.
An N-phenyl spirolactam rhodamine dye is used to absorb light within the visible region, making it appropriate to fluoresce light. Shining it with UV radiation triggers a photochemical reaction and forces it to open up and become fluorescent. Turning off the UV light beam shuts down fluorescence, diminishes light scattering and makes the reaction reversible — ideal for creating an animated 3-D image that turns on and off. The chemical amine base trimethylamine tunes the photoswitch molecule's rate of thermal fading — its on-off switch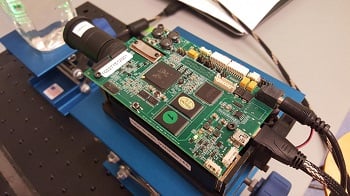 The set-up for the SMU 3D light pad includes this ultraviolet projector as well as a visible light projector. (Source: SMU)A 50-cubic-millimeter quartz glass imaging chamber was constructed to house the photoswitch and to capture light. Dichloromethane served as the matrix in which to dissolve the photoswitch dye. Patterns were projected into the chamber to structure light in two dimensions, using an off-the-shelf digital light processing (DLP) projector to beam visible light.
After projecting a beam of green light in the shape of a square, the researchers shined a series of UV light bars from a specially made 385-nanometer light-emitting diode (LED) projector from the opposite side.
Where the light intersected and mixed in the chamber, a pattern of 2-D squares stacked across the chamber was displayed. Optimized filter sets eliminated blue background light and allowed only red light to pass. To get a static 3-D image, they patterned the light in both directions, with a triangle from the UV and a green triangle from the visible, yielding a pyramid at the intersection.
From there, one of the first animated 3-D images the researchers created was the SMU mascot, Peruna, a racing mustang. The researchers envision technology applications in the entertainment, medical, advertising and military sectors.
Relative to other attempts at producing volumetric display systems, the SMU 3-D Light Pad uses lower light powers, which are cheaper and safer. The matrix for the display is also economical, and there are no moving parts to fabricate, maintain or break down.