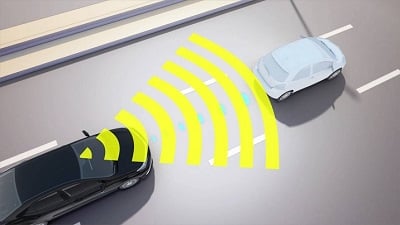 Source: Toyota Motor North America
Automotive technologies incorporating non-imaging radar technologies are expected to see high rates of growth due to increased regulations and higher safety standards. A compound annual growth rate (CAGR) of 19.51 percent is expected through 2024 due to its use in a number of prevailing technologies, including adaptive cruise control, blind spot detection and forward collision warning systems.
Non-Imaging Radar
Non-imaging radar modules consist of a transmitter, voltage-controlled oscillator (VCO) receiver integrated circuits (ICs) and a microcontroller unit (MCU). The module provides a complete radar solution for a number of collision avoidance systems, including adaptive cruise control, emergency braking, lane departure warning and blind-spot detection with the efficient use of power.
Limitations of laser-based and video imaging systems are that they fail to produce accurate results in critical visibility conditions. Non-imaging radar offers a significant advantage when operating under environmental influences and is also capable of measuring radial distance and velocity of remote objects with high precision. It is seen as the most promising technology for a number of driver assistance functions and may also be deployed alongside other sensor data in order to improve the overall accuracy, reliability and flexibility of advanced safety systems.
Newer technologies like millimeter-wave technology and higher frequency bands like the 77-gigahertz band have also emerged, helping improve market penetration. These newer devices incorporate smaller antennas for given beamwidth requirements. They also support greater bandwidths and higher power requirements that are needed to achieve long-range operation with high-distance separability.
Non-imaging radar is positioned to support the development of advanced driver assistance systems (ADAS) and automated driving features. It accounted for over 41 percent of the global market in 2015 and is expected to gain market share for years to come.
Adaptive Cruise Control (ACC)
ACC automatically adjusts vehicle speed to maintain a safe distance when approaching another vehicle. The ACC system then accelerates when traffic allows. It is widely regarded as a key component of intelligent cars as it works to maintain optimal separation between vehicles, reduces driver errors and has the potential to increase the capacity of the road.
Toyota was one of the first automotive manufacturers to offer ACC, featuring a LiDAR-based ACC system in the 1997 Toyota Celsior. Toyota then shifted away from LiDAR-based systems in 2003 when radar ACC technology was deployed in the 2003 Toyota Celsior. Today, they now bundle several active safety features along with dynamic radar cruise control in the Toyota Safety Sense™ (TSS) package, which is a standard feature on many of their new vehicles.
There are still a variety of technologies used in advanced ACC systems and perhaps even more common in the future will be radar-assisted systems, like Toyota's dynamic radar cruise control, as the industry moves forward with advanced features, including full speed range, stop and go operability and fully autonomous systems that can respond to traffic signals and non-vehicular on-road activity.
Blind Spot Detection (BSD)
Blind spots exist in the space between the driver's peripheral vision and the area reflected by the side-view mirror. The National Highway Traffic Safety Administration (NHTSA) estimates 840,000 accidents annually are related to blind spots.
BSD systems alert the driver when an object approaches the drivers' blind spot, typically through warning lights in the driver's side view mirror or dashboard. Sophisticated systems also have either haptic feedback or otherwise intervene and prevent the driver from merging into another lane when an object is detected in the blind spot. In some cases, video imaging has been used, while competing technologies deploy radar-based or radar-assisted sensor systems.
Forward Collision Warning Systems (FCWS)
FCWS monitor a vehicle's speed, the speed of the vehicle in front of it and the distance between the vehicles. The system will warn the driver of an impending crash if a slower-moving or stationary vehicle is being approached and the distance between the vehicles becomes too small.
The sensor-based system will alert the driver via an audible warning, a visual display or another signal. Some FCWS incorporate automated emergency braking (AEB) systems that help prevent a potential crash into the rear of slower moving or stopped vehicles.
Conclusion
Non-imaging radar is trending as a key technology in the development of ADAS. Advanced safety systems like ACC, BSD and FCWS are predominantly using non-imaging radar-based or radar-assisted sensor systems while other technologies, including lane departure warning systems, are also trending toward the use of non-imaging radar.
Regulatory bodies, including NHTSA and the Insurance Institute for Highway Safety not only favor automobiles equipped with these latest anti-collision technologies, they are moving forward with regulations that will mandate the installation of AEB into cars by next year while trucks with a gross vehicle weight between 8,501 and 10,000 pounds will require AEB beginning no later than September 1, 2025. Developing radar technologies like millimeter-wave radar are poised for growth for years to come.
Resources:
Automotive Radar Market Size By Application
Millimeter-Wave Technology for Automotive Radar Sensors in the 77-gigahertz Frequency Band