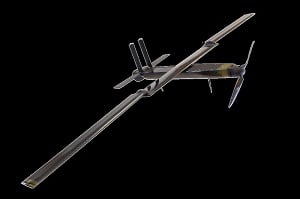 Artist's rendering of Outrider, Lockheed Martin's new, lightweight canister-launched UAS. Source: Lockheed MartinA canister-launched light unmanned aerial system (UAS) developed by Lockheed Martin in collaboration with Wirth Research was unveiled at the Defense and Security Equipment International 2017 exposition in London.
Measuring only four inches wide and weighing only 1.7 kilograms, Outrider is designed for use in environments where conventional, larger unmanned air systems are not practical. The UAS can travel up to 50 knots (58 mph) and delivers superior payload capacity and endurance when compared with similar systems.
The drone is equipped with high-definition television and infrared cameras for intelligence, surveillance and reconnaissance missions, and can be remote-controlled or operate autonomously along pre-programmed routes.
Outrider can be supplied in an entirely International Traffic in Arms Regulations or ITAR free configuration to address wide commercial and military market needs.
Lockheed Martin envisions it as a modular system that could be launched from aircraft, ground troops and vehicles, surface naval vessels and submarines.