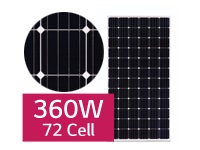 High Efficiency LG Mono X® Plus 72 Module Cells. Source: LG Electronics USASolarEdge Technologies Inc., a provider of PV inverters and power optimizers, and solar panel manufacturer LG Electronics USA have introduced a smart module for the residential and commercial PV rooftop markets in North America. This power-dense rooftop offering includes both add-on and embedded power optimizer options for both commercial and residential systems.
The package combines SolarEdge's inverters with LG's NeON R modules (with module efficiency up to 21.1 percent), P370 and P800 power optimizers for residential and commercial installations respectively and free module-level monitoring. Benefits include no power clipping, increased efficiency, flexible array design and a multitude of racking options.
LG's NeON R series offers a 25-year complete coverage warranty, giving homeowners a hassle-free asset for the lifetime of the system. The modules feature a back contact technology and the residential version is compatible with SolarEdge's HD-Wave inverters, StorEdge solution and Inverter-Integrated EV chargers. The module-level monitoring can be easily connected through hard-wired internet or a cellular network. The solution complies with the latest safety standards, such as NEC 2017 and smart-inverter protocols.