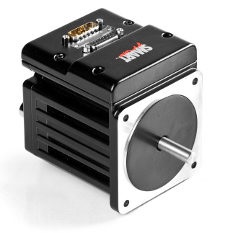 Source: Moog Animatics
Robotic technologies are entering a new era and as engineers explore the possibilities, they are equipped with increasingly sophisticated components like the smart motor. Traditional servo motors react to PWM commands from a host controller. A servo motor, controller and ancillary feedback mechanism work together to form a closed-loop motion control system. The smart motor is a distributed motion control system comprised of a motor, encoder amplifier, controller and bidirectional communications all in a single package. They are programmable, networkable and open the door to new possibilities.
How Smart Motors Function
Smart motors differ from traditional servo motors in that they are programmable and include bidirectional communications. The traditional closed-loop control system relied on a feedback sensor and the motor would receive a unidirectional command signal, typically (PWM) pulse-width modulation to obtain its desired position or speed. The device is unaware of its actual position, but rather responds to a pulsed signal and moves up to 90 degrees in either direction.
Smart motors house all the components of a conventional closed loop motion control system in a conventional NEMA housing. Instead of depending on ancillary feedback, the smart motor with its integrated electronics capture relevant reference data and relay its actual position and speed while operating under defined limits.
Smart motors are programmed with adjustable speed and acceleration limits. A target position is approached in a controlled manner as the associated control circuitry is based on proportional, integral and derivative (PID) control and updated up to 16,000 times a second. This not only allows the motor to operate safely within its defined limits but also allows it to operate more efficiently as it relays its actual position and operating conditions.
Added Functionality
Smart motors are more aware of their operating performance. Servo systems typically relied on contactors and protective relays as the PWM could ramp up and force movement as to achieve its target position. The smart motor is able to troubleshoot itself and let the operator know something is wrong. It operates under multiple adjustable set points and can quickly identify when a target position is not obtained.
The smart motor also replaces the need for motor contactors. They can ramp up like a soft start controller and respond to low-voltage switch closures and PLC outputs.
Smart motors are a compact sophisticated component. The space-saving design even alleviates wiring issues. Instead of wiring each servo motor to a motor controller, each smart motor incorporates two serial ports allowing them to be daisy-chained together.
Applications
The target application for smart motors, like Moog Animatics SmartMotor™, is robotics. The unprecedented accuracy, ease of programming and networkability make the unit ideally suited for advanced robotic applications.
Advanced robotic systems also benefit from the compact footprint and advanced features offered through smart motors. Design engineers are able to forgo the added expenditures and design time needed to integrate PLCs, feedback sensors, I/O blocks and control cabinets. The simplicity and ease of incorporating smart motors into the design reduces machine development time to get new products to the market quicker often at a reduced cost. Whether designing a robotic machining center, a coordinate measurement machine or robotic welding machine, today's smart motors may be the solution to your design problems.
Resources: