MICROMO has launched the MC3/MCS motion control family. The controllers are optimized for use with FAULHABER motor technologies, offer electronics for simple operation with state-of-the-art interfaces for multi-axis applications, and provide a motion control system solution with the most compact integration into industrial-grade housing.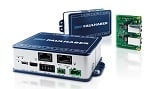 MC3/MCS motion controller. Source: MICROMO
The FAULHABER Motion Controllers V3.0 are high-performance, intelligent, networked drives optimized for both OEM and automation applications. These high-bandwidth controllers feature 100 microsecond sample time for velocity, position and current feedback.
The controllers are compatible with Industry-standard network and control interfaces (Ethernet fieldbus technology, USB, network communication protocols, CANopen and RS-232). They incorporate a robust power stage with extensive transient suppression and thermal protection (up to 10 A continuous and 30 A peak)
Three device variants cover different application areas. The Motion Controller MC 5005 and MC 5010 with housing and plug connectors are designed for use in switch cabinets or in devices. Motion control systems, such as servo motors with integrated Motion Controllers, are already pre-configured and make it possible for use directly in the automation environment. An intelligent module system makes it possible to integrate diverse brushless and brush-commutated DC servo motors into standardized housing.
The MC 5004 motion controller is designed for use in existing housing as an open plug-in card. An available motherboard makes it easy to get started in multi-axis applications. All three versions use the same technology basis and offer the same interface options, as well as the same operating principle and functionality.