Wolfspeed, a Cree Company, is highlighting the key role played by its industry-leading GaN-on-SiC RF devices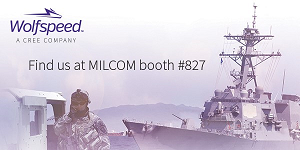 in delivering solutions for modern military communications challenges. Wolfspeed's RF devices support mobile military communications and counter-IED requirements, specifically in the design and development of more efficient broadband power amplifiers for military wireless communications and electronics warfare (EW) applications.
"Wolfspeed's GaN RF devices provide a key enabling technology for military systems designed to counter the threat from improvised explosive devices (IEDs) on the battlefield, delivering a combination of power and efficiency performance that cannot be achieved with any other competing technology," said Jim Milligan, vice president, RF and microwave products. "Wolfspeed is proud to carry on our long tradition of supporting our military and federal agencies with the most advanced GaN RF technologies designed to increase the safety and the effectiveness of our military forces."
Wolfspeed is a silver sponsor of the MILCOM 2017, the premier conference for global military communications professionals involved in command, control, communications, computing, intelligence, surveillance and reconnaissance (C4ISR) systems, scheduled for October 23 – 25, 2017, in Baltimore, exhibiting in booth 827, Wolfspeed engineers will be demonstrating their latest best-in-class GaN-on-SiC devices for an extensive range of RF power amplifier applications for military communications systems and electronic warfare systems, as well as the company's GaN-on-SiC foundry services.
For more information about Wolfspeed, please visit the company website or, if you plan to attend MILCOM 2017, visit Wolfspeed at booth 827. For additional details about Wolfspeed presentations at MILCOM 2017, please visit http://www.wolfspeed.com/milcom-17.