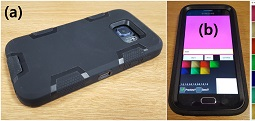 (left) The phone is facing down while the screen flashes different colors and the camera captures images of the reflected light. (right) The user interface shows the main light source and the captured images. Source: University of St. Andrews
A software update or application download can enable your smartphone's camera to be more than, well, a smartphone's camera. Technology devised at the University of St. Andrews, Scotland, uses the front-facing camera and the display as a multi-spectral light source to realize a lightweight surface color and material sensing approach.
The SpeCam system allows the phone to determine what type of surface it is sitting on. It can also enable your phone to tell you where it is when you can't find it, and be programmed to perform specific tasks depending on the type of surface it encounters. The placement of a phone affords new forms of interaction that support eyes-free and single-handed use.
Lead researcher Professor Aaron Quigley, Chair of Human Computer Interaction at the University, said: "This is an example of what we call discreet computing or discreet interaction, where subtle and inconspicuous user actions can result in entirely new forms of interaction. By training and hence recognizing materials all the surfaces around us become a canvas for our imagination."