Why design a robot that locomotes like – and even vaguely resembles – a turtle? To learn how to cross the road.
The C-Turtle engineered by roboticists and biologists at Arizona State University combines machine learning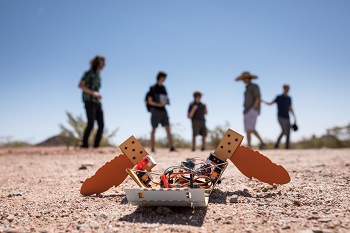 The movements of sea turtles inspired the robot, made of $70 worth of parts. (Source: Charlie Leight/ASU Now)and inspiration from nature to learn how to navigate different terrain. Designed for sandy environments, the reptilian robot needed one hour of learning to walk in sand during a desert test.
Flippers based on the shape and function of sea turtle flippers propel the robot. This exercise in developmental robotics confirms a synergy between biology and robotics, and demonstrates a low-cost, relatively simple route to robot assembly. The C-Turtle is composed of thin cardboard, $5 motors and $10 chips – for a total fabrication cost of $70.
The advent of 3-D printers lends itself to the cost-efficient machining of these robots, which could find a use in environmental monitoring or locating minefields.