Industrial Electronics
ISO Certifications: Why Quality Matters in Today's Business Climate
24 August 2017
Sponsored content
In almost any professional environment, earning certifications and exceeding standards represent surefire ways to rise above the competition. Customers want to know that their investments are being taken seriously by the companies they trust to perform work or make goods on their behalf.
Many people probably recognize the "ISO Certification" seal or number as a mark representative of quality and assurance. ISO, or the International Organization for Standardization, is an independent, international, non-governmental organization comprised of 163 national standards bodies. As they state on their website, ISO "… brings together experts to share knowledge and develop voluntary, consensus-based, market relevant International Standards that support innovation and provide solutions to global challenges." Each ISO standard details requirements, specifications, guidelines or characteristics to ensure that processes, services, materials and products meet their unified, international criteria.
So, why do organizations pursue the relevant ISO certifications in their industries and why do these standards matter to consumers? In today's business climate almost everything is globalized. It is critical that a component coming from a manufacturer in China, for instance, meets the same standards as the assembly it is being placed in when it arrives in the United States. Customers – and businesses – want to know that they are purchasing quality parts and services that have met the same standards from end-to-end. It is often painfully obvious when a business cuts corners and specs in a part or product that has not been made well. The results can be catastrophic – sometimes leading to injury or death.
One of the most valuable benefits of an ISO certification is the quality management process that is put into place by the pursuing organization. In fact, the most common ISO standard – ISO 9001 – details the necessary steps to put a quality management system into place. Many organizations pursue this particular standard to establish their ability to consistently provide products and services that meet standards requirements. This standard can be achieved by any organization regardless of its size, industry space or location. In fact, more than one million companies and organizations in over 170 countries have achieved their ISO 9001 certification.
From a business perspective, the key benefits of attaining ISO certification--whether it is ISO 9001 or other ISO certifications relevant to a particular industry space--include:
Adapting business processes to make quality the number one goal, and in the process, ensuring processes are more effective,
Positively impacting customer service and customer satisfaction levels
Establishing increased productivity through process efficiencies,
Opening up international trade possibilities,
Working to improve any impacts to the environment, and
Setting goals that employees can be a part of, and consequently, increasing their motivation to improve performance metrics.
When selecting a supplier for industrial electrical and electronic control devices, it is important to ensure that the company has taken the time to become – and stay – ISO certified. Radwell International made the commitment to adhere to these international standards and is proud to maintain the ISO stamp of approval today. The company's mission statement echoes many of the same qualifications that the ISO organization requires: the development of products and services that lead in the marketplace; the use of customer input to drive products and services; the constant reinvestment in improvement to processes and performance; and the maintenance of a safe, happy and financially rewarding workplace.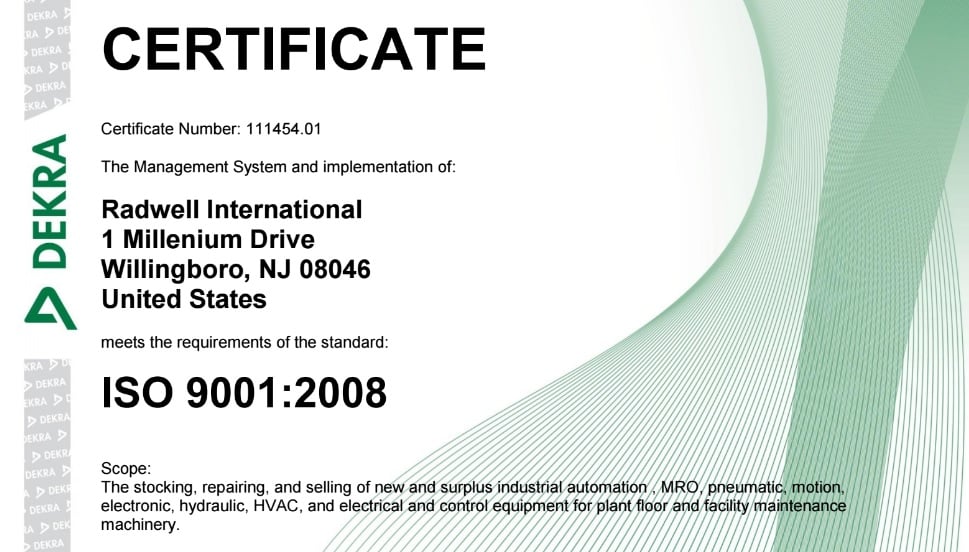 Radwell International proudly displays its ISO 9001 certification right on its website where customers can view it to understand the company's commitment to quality standards. Source: Radwell International
Find Free Electronics Datasheets