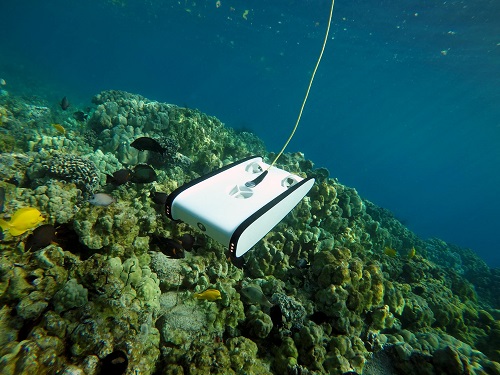 The Trident drone in action in Hawaii. Source: OpenROVWhile flying drones seem to be getting the bulk of the attention, a number of cool submersible drones are quietly coming to the market. These drones are not for the military or industrial markets but for consumers, researchers and marine exploration.
OpenROV, which launched a successful Kickstarter campaign to raise funds for its Trident drone earlier this year, has taken one step closer to making its device a reality by agreeing to use Real-Time Innovations' (RTI) Connext DDS as its connectivity platform.
Trident is an out-of-the-box underwater drone built on RTI's software with a built-in camera that produces multiple video streams. The video is transmitted through a tether and bridged to a user's device via WiFi. The RTI software helps maintain the balance between delivering low-latency, high-quality video and dealing with bandwidth and reliability in the system.
The software also ensures the videos are streamed live and recorded to a customer's device as the customer pilots the vehicle.
OpenRov was able to complete the implementation of the Connext DDS in just two days.
"The Connext DDS framework enables us to rapidly enhance interoperability between the technical aspects of our products, improving the way we utilize multiple vehicles at once and the way we expand the capabilities of each individual vehicle," says Charles Cross, software engineer at OpenROV. "Additionally, it allows us to keep track of where and when connectivity issues arise, so we can both solve the issues at hand and learn from them to improve future developments. We are currently working on expanding our systems into more industrial applications and we believe that RTI's vast industrial experience will serve as a strong basis for this growth."
RTI says it will support the Trident drone as it moves into larger markets such as shipping and inspection, aquaculture, environmental monitoring, marine construction and search and rescue.