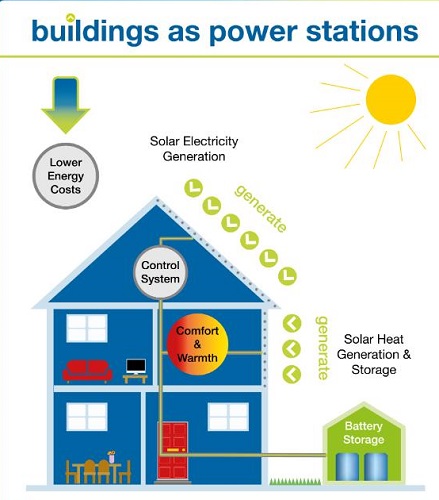 A diagram of a potential building as power station approach. Source: Swansea University A new study indicates that if homes were designed to generate, store and release their own solar energy, energy bills could be cut by more than 60%.
The study, conducted by Swansea University in the U.K., used an integrated solar roof and battery storage with solar heat collection on south-facing walls. Over the next six months, the project generated more energy than it has consumed. As a result, the university believes it could save homeowners more than $780 a year.
The project focused on designs for the Active Homes Neath social housing development, which would be the first major housing development to use the "buildings as power stations" approach. The development features solar roofs, shared battery storage and potential charging points for electric vehicles. Water heating comes from a solar heat collector on south facing walls while waste heat is captured and recycled in the building, helping to keep bills down.
Establishing 1 million homes using this power station approach could reduce peak generating capacity by 3 gigawatts, reduce carbon dioxide emissions by nearly 80 million tons over 40 years, bring financial benefits through new investments and more.
"The scale of the potential impacts is compelling, and demands that we make considered decisions about how we meet housing needs sustainably," says Andris Bankovskis from Swansea. "It suggests that if we are prepared to take some bold decisions about the way energy is supplied and used in our homes, the rewards could be significant and lasting."
The Swansea report comes after the U.K. government announced measures to make it easier to store power in batteries and to phase out new petrol and diesel engines in cars in favor of greener options