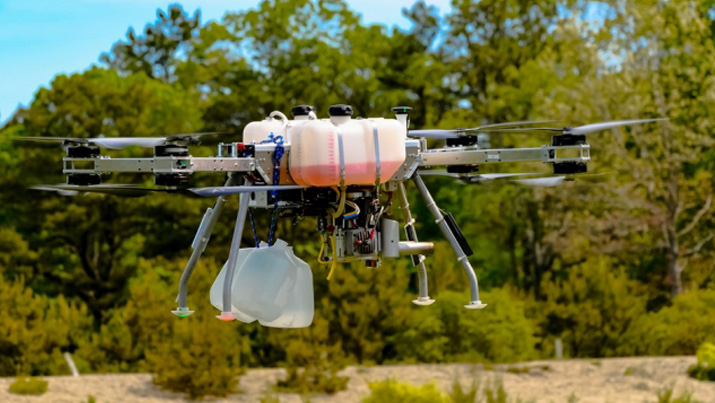 MIT spinout company Top Flight Technologies will be introducing powerful hybrid drones. Image credit: Top Flight Technologies.With a Ph.D. in mechanical engineering from MIT, Long N. Phan is a technology innovator and entrepreneur with several "firsts" under his belt. He helped build the world's first fully-autonomous helicopter in the mid-1990s; became an early pioneer of the high-frequency trading system on Wall Street in the early 2000s; and now, as the co-founder, CEO and CTO of Top Flight Technologies, he is among the first to commercialize hybrid gas/electric drones.
The drones, which can operate in full- or semi-autonomous modes, will be coming to market in the fall of 2017. They could help to make drone package-delivery a reality, along with enhancing capabilities for crop imaging, military surveillance, emergency response, remote infrastructure inspection and other applications. They could also pave the way for human flight.
Many current drones can run for 15 to 30 minutes on a battery charge, and have a maximum payload of 5 pounds. The new hybrid devices offer an order-of-magnitude increase in range, payload size and power: more than 2.5 hours flight time, or up to 100 miles, while carrying up to 20 pounds. They weigh around 17 pounds, and can generate up to 10 kilowatts of power.
As Phan explains, "Using a high-energy-density energy source like gasoline, and converting it to electric power, and doing it efficiently, gives you the equivalent of a 'super battery.'" Gasoline power drives the lift motors and keeps backup batteries charged. It also runs to a small generator, creating electricity — which is then transferred in pulses to the electric motors and onboard electronics.
Because a drone's engine must be small and lightweight, Phan and a team of MIT researchers needed to overcome the challenge of excessive vibration and heat as they designed their microscale hybrid engine. "Often (an) engine will literally melt because you're running it so hot," Phan says. Strategically employing various heat transfer and control techniques such as small fans, cooling fins and rubber vibration dampeners proved to be the key to creating their engine concept, which they refer to as a "digital gearbox."
Looking ahead, Top Flight Technologies aims to hybridize the gas turbine engines used to power jets and helicopters. The company is also developing a 100-kilowatt hybrid drone that can lift 100 kilograms (around 220 pounds) — making it practical for hauling people from hub to hub. While a number of companies, including NASA and Uber, are also working on building small autonomous "air taxis," Phan says that these can only stay airborne for about 10 minutes. The new drone his company is working on can stay airborne for up to three hours.
"With a 100-kilowatt hybrid electric engine, concepts like air taxis become viable," Phan says. "By 2020, you may see a drone fly a person."