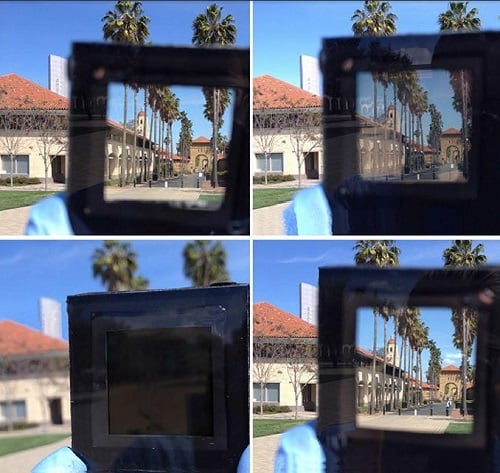 The glass prototype was able to switch tints 5,500 times with no change in light transmission. Source: Stanford University A new prototype conductive glass has been developed that can switch from transparent to opaque and back again in under a minute and does not degrade over time.
Researchers at Stanford University developed the system of plates of conductive glass outlined with metal ions that spread out over the surface, blocking light, in response to electrical current. The development could transform windows in our homes, businesses, cars and more reducing heating and cooling costs or the need for blinds.
Current smart windows are made of materials such as tungsten oxide that change color when charged with electricity. However, these materials tend to be expensive, have a blue tint, can take more than 20 minutes to dim and become less opaque over time.
The Stanford prototype blocks light through the movement of copper and another metal in a solution over a sheet of transparent indium tin oxide modified by platinum nanoparticles. When transparent, the windows are clear and allow about 80% of natural light through; when dark, transmission drops to under 5%.
Under testing, researchers switched the windows on and off at least 5,500 times and saw no change in the transmission of light.
The next steps are to address how much area the prototype can cover and to cut the cost of the prototype so that it is at least half the cost of dynamic windows that are already on the market.
"We're excited because dynamic window technology has the potential to optimize the lighting in rooms or vehicles, save about 20% in heating and cooling costs, and even change the way people wear sunglasses," says Michael McGehee, a Stanford University professor of materials science and engineering.
The full research can be found in the journal Joule.