IBM and Rochester Institute of Technology (RIT) have joined forces to simulate sophisticated cybersecurity threats with software. Companies have long struggled to find sufficiently qualified professionals who are able to address the threat landscape that currently exists.
The collaboration will involve an existing laboratory at RIT, and allow students studying computing security to use IBM software for security intelligence and advanced threat protection. The software will be used in coursework and IBM will host seminars at RIT.
The relationship gives RIT access to IBM security solutions such as its QRadar Security Intelligence platform, including an easy-to-use unified architecture for integrating security information and event management, flow analytics, log management, incident forensics and vulnerability management. Students will also have access to IBM tools for web access security, network security and application vulnerability testing.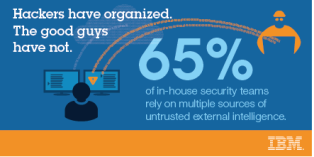 65% of in-house security teams rely on multiple sources of untrusted external intelligence. Image credit: IBMThe lab is a controlled environment for students to experiment with real-world security scenarios. The security analytics software will be used in a variety of courses, including network security and forensics, penetration testing and systems security. RIT will also have access to IBM's threat-sharing platform, IBM X-Force Exchange, giving students the chance to learn real-life threat data coming from IBM and other global companies.
"The shortage of skilled cybersecurity professionals is one of the biggest issues facing the security industry today, and it is only expected to grow," says Bob Kalka, vice president of IBM's Security Business Unit and RIT computer science alumnus. "By equipping students with the tools and insight needed to defend against the next generation of security threats, we will be better preparing these students for careers in the world of cybersecurity. With this collaboration, we also hope to create co-op experiences for RIT students and to identify future employees interested in protecting IBM's customers from cyberthreats."
"We want to put the best tools in front of our students and with this partnership our students will be learning with systems that companies actually use in industry everyday," says Bill Stackpole, professor of computing security. "IBM does a great job with security intelligence, creating databases where you can rank vulnerabilities and maps so you can see where attacks are coming from."
RIT students will be able to explore a variety of issues related to the collection and analysis of security-related events and to effectively identify, communicate and react to real security incidents.
To contact the author of this article, email engineering360editors@ihs.com
Related Links: