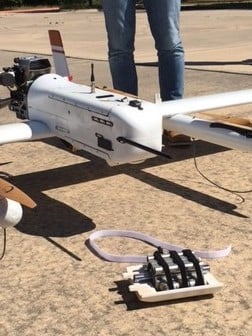 The delivery drone used to break the longest delivered package record. Image credit: NIAS
A delivery drone has flown 97 miles setting the record for the longest distance a fixed-wing unmanned aerial vehicle (UAV) has traveled to deliver a package.
As part of a program from the Nevada Institute for Autonomous Systems (NIAS), the drone began its journey in central Texas and flew a pre-planned route through the National Airspace System (NAS) using a combination of mobile command and control, a visual observer team and stationary visual observers located across the flight route. Using a cellular link, a team monitored the drone's flight until it delivered its package in Austin, Texas.
"This was the most challenging, logistically-intensive and longest package delivery demonstration recorded to date using cellular technology in the NAS, and allowed us the opportunity to demonstrate innovative capability—a demonstration necessity for the UAS industry," says Dr. Chris Walach, director of the FAA-designated Nevada UAS Test Site and adjunct assistant professor for the College of Aeronautics at Embry-Riddle Aeronautical University Worldwide. "Assembling a resilient team, being at the right place at the right time, with the right innovative technology and entrepreneurial perspective is what allowed us to accomplish this mission."
Walach says drone delivery in an urban and remote environment is going to only grow in the future and become a major commercial platform. This project is a test to prove that new unmanned aerial systems (UAS) technology can be safely used for urban package deliveries over a long distance, he says.
Previously, NIAS delivered a package in Hawthorne, Nevada, at more than 39 miles. In this latest test, additional safety measures were used such as the visual observers placed along the route and a ground mobile visual observer team in remote areas.