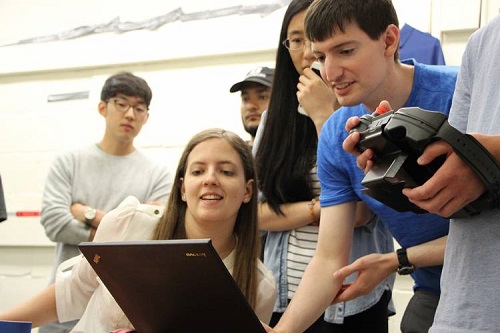 Duke's robotic team working on its entry for the Amazon Robotic Challenge. Image credit: Duke University The Amazon Robotics Challenge is an event to try and strengthen the ties between the industrial and academic robotic communities, finding new ways to automate business.
The competition begins next week and Duke University students will be one of the 16 teams from universities and research institutes tasked with building and programming robots capable of picking up items and packing them in boxes.
The Duke team was selected as a finalist for the competition in November and the team is made up of students from biomedical engineering, electrical and computer engineering, mechanical engineering, computer sciences and physics.
Duke's robots will be tested along with the other teams to involve object recognition, grasping objects, motion planning and task execution. The robots earn points based on how many items are successfully picked up and stowed in a fixed time frame.
Duke says the key challenge of the robot is to accomplish what human pickers do in a warehouse millions of times a day—but with the added ability of being able to automatically recognize and pick up thousands of different objects.
"Robots in factories are typically custom-engineered only to pick up one type of object, but our system must be able to cope with a wide variety of objects and situations," says Kris Hauser, the faculty adviser to the Duke's robotic team. "You need to have perception melded with hardware melded with planning and all of these different components have to be working together."
The goal of the challenge is to fill Amazon's real need for a warehouse sorting robot while gaining experience and insights into product development.