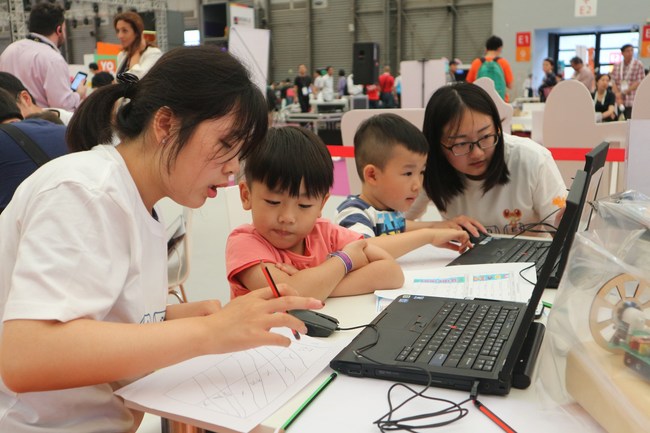 Kids learn how to code their own video game in less than 4 days. (Source: LeapLearner)LeapLearner, an ed-tech company based in Shanghai, has released a new video game called FrogLeap. It's not your average video game, though: FrogLeap was created and entirely coded by kids ages 4-15. LeapLearner held a massive hackathon where the game was created during Yomo Shanghai as part of GSMA Shanghai. The event's aim was to have a fun, social introduction to the language of code and computer programming.
The kids who attended the event started the day with no knowledge or understanding of code or computer science. Each child developed and tested a 3-second-long section of the game, and then all the sections were combined to create FrogLeap, a 50-minute, single runner game with 5000 lines of code. Kids added personal touches to their part of the game with a personalized signature within the code. FrogLeap can now be played online all over the world.
The LeapLearner hackathon provided the opportunity to socialize and work together within an educational environment. LeapLearner's approach to these types of events proves that learning code is a social activity and encourages teamwork. So parents who are worried that interacting with computers and gaming is too solitary can be reassured that their child is being social.
This event was the largest of all the hackathons that LeapLearner has hosted this spring. The company has introduced more than 2000 kids to coding and expects to have more than 50,000 children and parents enrolled in their online–offline curriculum for the next academic year. LeapLearner's program engages students through independent online learning as well as social hackathon events. This curriculum is programmed to help children with English, math and coding skills and teaching them how to self-learn and problem-solve new challenges.
To learn more about LeapLearner, visit their site here.