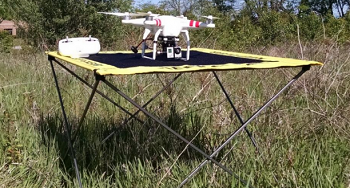 Image credit: Ocelleye LLC
Commercial drone operator Ocelleye LLC (Indianapolis, IN) has released its UAV Landing Zone for vertical takeoff and landing of unmanned aircraft systems (UAS) weighing under 25 pounds.
The equipment provides a lightweight and portable platform to launch and land while keeping drones away from dust, debris and wet conditions. Further, it greatly reduces the risk of debris on camera lenses and gimbals and keeps electronics elevated away from potentially wet ground.
When deployed, the UAV Landing Zone measures 32" x 32" x 24" high and collapses to a 36" long by 3.5" diameter for transport and storage.