The next big goal in unmanned aerial vehicles (UAVs) is to make them fully autonomous. The belief is that this will be the only way drones can deliver goods to customers from a mobile platform or return to a warship moving at high speeds in the ocean.
Researchers at University of Cincinnati's College of Engineering and Applied Sciences are tackling the issue of drones and precision landing by using a type of artificial intelligence, which they call fuzzy logic.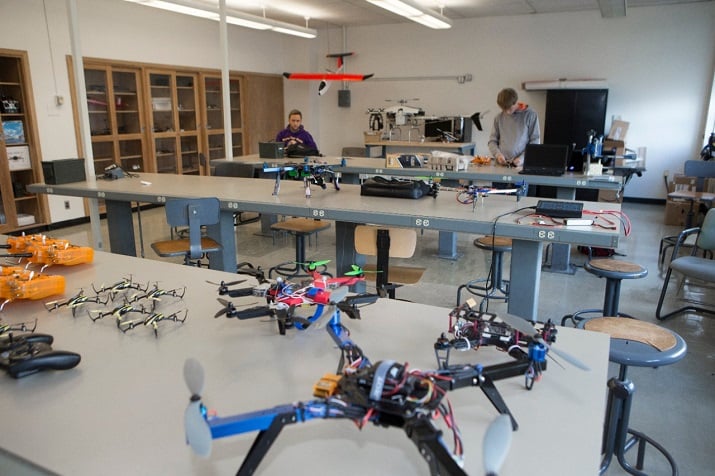 Researchers test drones using fuzzy logic, a type of artificial intelligence, in order for precision landing on moving targets. Source: University of Cincinnati "[A drone] has to land within a designated area, with a small margin of error," says Manish Kumar, associate professor of mechanical engineering at the University of Cincinnati. "Landing a drone on a moving platform is a very difficult problem scientifically, and from an engineering perspective."
Fuzzy logic is what humans utilize every day when making inferences and generalities. Instead of seeing the world in black and white, fuzzy logic allows for nuance or degrees of truth, researchers say. They are now looking to turn this reasoning into control systems for UAVs.
Artificial intelligence helps drones to make better navigational decisions, and allows for the system to evolve over time while discarding the lesser solutions. The university is testing how fuzzy logic works with drones by landing quadcopters on robots mounted with landing pads at its UAV Multi-Agent System Research (MASTER) lab.
"This landing project is a real-world problem," says Nicklas Stockton, a researcher at the University of Cincinnati. "A delivery vehicle could have a companion drone make deliveries and land itself."
The research is already being put to use, as Stockton was offered a position inside the U.S. Air Force to continue his engineering research into fuzzy logic and drones. Another student started an artificial intelligence company called Psibernetix that used a fuzzy-logic program called Alpha to best a human fighter pilot in simulated dogfights.
Beyond military use, landing drones on a specific moving target using artificial intelligence has garnered attention from the manufacturing and even healthcare industries. It could also change the way delivery drones operate and transport goods from businesses.