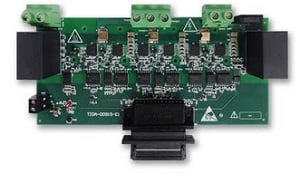 The GaN-based inverter reference design. Image credit: Texas Instruments
Texas Instruments has unveiled a three-phase, gallium nitride(GaN)-based inverter reference design targeted at engineers building 200V, 2-kW Ac servo motor drivers and next-generation industrial robotics.
The reference design features TI's LMG3410 600V 12A GaN power module with integrated FET, gate driver and protection. The module allows the design to switch up to five times faster than silicon FETs, while achieving efficiency levels greater than 98 percent at 100 kHz and greater than 99 percent at 24 kHz pulse width modulation (PWM) frequency.
The TI reference design uses TI'S AMC1306 isolated delta-sigma modulators with current sensing to increase motor control performance. It also includes TI's ISO7831 digital isolator for reinforced isolation between the MCU and the design's six PWMs.