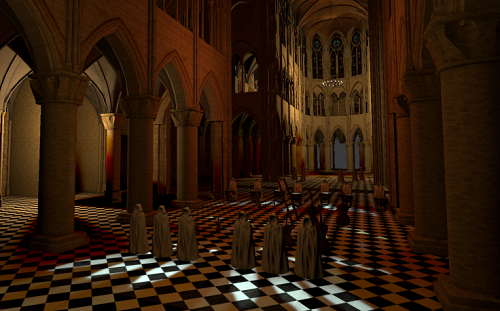 Ghost orchestra produces sounds of the 19th century in Paris' Cathedral of Notre Dame. Source: Groupe Audio AcoustiqueAn acoustics research project at Paris' Cathedral of Notre Dame uses spatial audio and virtual reality to create a ghost orchestra that plays continuously.
The project involves computer models of recordings from a live concert that was held at the cathedral and details room acoustic simulations to produce a virtual recreation of the live performance. Researchers reproduced the recordings with computerized acoustical data and enhanced it with computer-generated virtual navigation including 3-D visualizations made with immersive architectural renderings that float the viewer through the medieval gothic cathedral.
The ghost orchestra produces a spectral tour to the sounds of the 19th century opera "La Vierge" (The Virgin) performed live during the 2012-2013 concert season to celebrate the Cathedral's 850th anniversary.
"3D-audio is the hot topic today in virtual reality that is currently a very active subject in both academic and industrial research," said Brian F. G. Katz, research director at the Institute Jean Le Rond d'Alembert, Pierre and Marie Curie University who led the project. "With the commercialization of affordable VR systems — the cheapest allowing for VR on smartphones — spatial audio is rapidly emerging from the laboratory."
The work's goal is to create better VR and acoustics from virtual audio scenes exploring how visually impaired people understand and remember architectural spaces, to improving understanding of spatial audition, to refining VR rending capabilities.
The next step in the project is personalized audio rendering that involves adjusting rendering to match one's individual head and ear details and the team plans to apply the methodology to other complex multimodal environments such as theater simulations.
"Aside from the acoustics in this project, I think we definitely learned a lot about computer graphics and VR content production, which has opened up a lot more dialogue with those communities that we intend to pursue," Katz said.
Learn more about the ghost orchestra by visiting: https://groupeaa.limsi.fr/projets:ghostorch