Mueller Systems (Atlanta, GA) is collaborating with Senet (Portsmouth, NH) to deliver advanced metering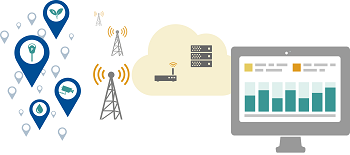 (Source: Senet)infrastructure to water utilities across North America.
Mueller Systems, a subsidiary of Mueller Water Products, Inc., provides smart metering solutions to optimize the delivery and use of water. Senet is a North American provider of public, low-power, wide-area networks (LPWANS) for long-range Internet of Things (IoT) applications supporting the LoRaWAN™ protocol.
Mueller Systems will utilize Senet's open standards-based, public LoRaWAN to bring its LoRa®- enabled metering solutions to market and to deliver IoT solutions and coverage to its customers throughout North America. This collaboration will develop a highly scalable network of wireless IoT sensors for water metering and management applications designed to boost utility provider efficiencies.