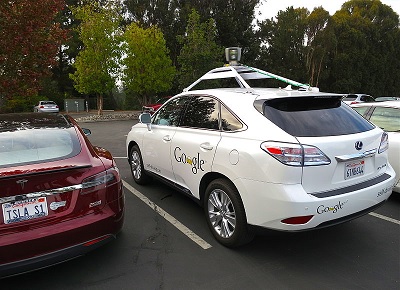 Image Credit: Steve Jurvetson | CC BY 2.0Toyota Research Institute's (TRI) mission is to harness the power of artificial intelligence to improve the quality of human life with emphasis on human machine interaction in the automotive industry. Their latest efforts include the development of blockchain applications and proofs of concept that increase the functionality, performance and safety of autonomous vehicles and the mobility ecosystem.
Blockchain
Blockchain was developed by Bitcoin in 2008 and quickly became synonymous with their digital currency. The technology, however, is not a currency at all, but rather a distributed ledger technology that is virtually incorruptible.
Blockchain publicly shares files that are hosted across a distributed network. It is composed of a collection of historical records, called blocks, that cannot be controlled by any single entity (as they are duplicated across a peer-to-peer network). They are inherently resistant to modification, undergo a self-audit every ten minutes, and provide complete transparency as each edit it timed-stamped and user verified.
Autonomous Automotive Applications
Autonomous driving technology is evolving but, despite substantial progress, entities that govern their operation are reluctant to allow for fully-autonomous operation. To address the shortcomings of fully-autonomous vehicles, Chris Ballinger, director of mobility services and chief financial officer at TRI, stated that "hundreds of billions of miles of human driving data may be needed to develop safe and reliable autonomous vehicles."
TRI is now collaborating with MIT Media Lab and other industry partners to promote sharing of driving and testing data. Their solution aims to capitalize on the massive amount of data being collected by onboard sensors and roadway infrastructure that are increasingly connected to the cloud.
Blockchain is presented as the secure method of pooling data from vehicle owners, fleet managers, and manufacturers. The shared knowledge would allow for rapid development of next-generation autonomous vehicles while protecting digital property rights and preserving ownership of the data by its creator.
The Full Suite of Automotive Applications
TRI's first initiative for blockchain is to enable sharing of driving and testing data, which is an attractive solution for all parties involved that may attract a wealth of industry partners. Additional blockchain applications that are also being presented as proofs of concept include ride sharing transactions and usage-based insurance rates.
The potential for owners to monetize their asset includes the selling of rides, cargo space, or even usage of the vehicle itself. The distributed ledger can store vehicle usage data and validate smart contracts for these ride sharing transactions. It captures user identity and eliminates the need for financial intermediates that typically carry transaction surcharges. It can also help implement smart contracts with the automation of pre-determined functions when preset conditions are met, including remote locking / unlocking of the vehicle and engine start-up / shut off.
In the realm of data management efficiency and financial transactions, it also is within reason to allow users to opt-in to usage-based insurance rates. Blockchain has been proven as a secure method of publicly sharing data in a way that protects digital property and prevents fraud (as each block of data is virtually incorruptible). As users develop trust, they can opt to use a blockchain application to provide complete transparency of their driving data and capitalize with reduced insurance premiums when exhibiting safe driving habits.
Conclusion
The rise of the autonomous vehicle is underway as are new technologies that boost efficiency and usability. To increase safety, functionality, and performance, blockchain is being investigated as a tool to foster collaboration and facilitate deployment of next generation technologies. From protection of digital property rights of shared data to facilitation of ride sharing transactions and usage based insurance rates, the technology looks to eliminate the unknown and broadcast the possibilities.
Resources:
Toyota Research Institute Explores Blockchain Technology for Development of New Mobility Ecosystem