Carnegie Mellon University alumni regularly light up Tony Awards ceremonies; they've taken home gleaming trophies 44 times. Last Sunday, professional writing alumna Brit McCandless's glow came from her "wearable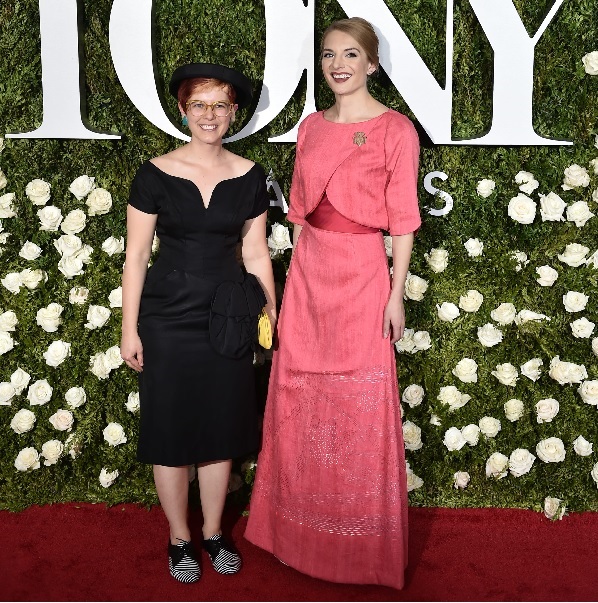 CMU alumna Sophie Hood (left) created a Carnegie Mellon-inspired ensemble for the Tony Awards red carpet worn by fellow alumna Brit McCandless. Credit: Carnegie Mellon Universitytech" dress, designed by fellow alumna Sophie Hood.
Hood, who holds a master's degree in costume design from Carnegie Mellon's College of Fine Arts, chose a simple silhouette for the jewel-toned two-piece dress. She incorporated LED lights and laser-cut graphics to represent the blended educational experience the school provides its students, where a computer science undergraduate can earn a minor in creative writing or a theater major can dabble in high-tech clothing design.
The dress responds to the wearer's heartbeat. A brooch fashioned after a thistle—a school symbol—controls the lights.
This garment is not Hood's first venture into wearable technology. In 2016, she created a voice-activated 'brain dress' that was worn by Dietrich College faculty member Marlene Behrmann for her induction into the National Academy of Sciences.
Nearly half of the Tony awards garnered by Carnegie Mellon alumni came in technical theater categories, including costume design, making this red-carpet ensemble particularly appropriate. "I'm very excited about the dress," McCandless said. "It represents Carnegie Mellon's expertise in the arts and technology, and wearing this dress will be a fun and educational way to demonstrate that."