Japanese telecom firm SoftBank announced today in a press release that a subsidiary has agreed to acquire robotics firm Boston Dynamics from Alphabet, Inc. The company says the acquisition "aligns with SoftBank's investments in paradigm-shifting technologies and its vision of catalyzing the next wave of smart robotics."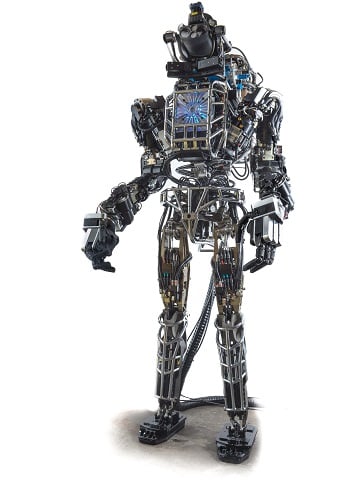 Atlas, Boston Dynamics' humanoid robot.Boston Dynamics, which was founded in 1992 and is headquartered in Waltham, Massachusetts, is noted as a pioneer in the robotics industry. The company's best-known product is BigDog, a quadruped robot designed for the U.S. military with funding from the Defense Advanced Research Projects Agency (DARPA). Other products include SandFlea, a wheeled robot capable of jumping 30 feet straight up, and Atlas, a bipedal humanoid robot designed for search and rescue tasks.
"Today, there are many issues we still cannot solve by ourselves with human capabilities," says Masayoshi Son, Chairman & CEO of SoftBank Group Corp. "Smart robotics are going to be a key driver of the next stage of the Information Revolution, and Marc and his team at Boston Dynamics are the clear technology leaders in advanced dynamic robots. I am thrilled to welcome them to the SoftBank family and look forward to supporting them as they continue to advance the field of robotics and explore applications that can help make life easier, safer and more fulfilling."
"We at Boston Dynamics are excited to be part of SoftBank's bold vision and its position creating the next technology revolution, and we share SoftBank's belief that advances in technology should be for the benefit of humanity," says Marc Raibert, CEO and founder of Boston Dynamics. "We look forward to working with SoftBank in our mission to push the boundaries of what advanced robots can do and to create useful applications in a smarter and more connected world."
Alphabet, Inc., Google's parent company, acquired Boston Dynamics in December 2013. Alphabet had announced its intention to sell the company in March 2016.