The Corcom International Electrotechnical Commission (IEC) inlet radio-frequency interference (RFI) filter IH series from TE Connectivity suppresses electromagnetic interference (EMI) conducted in equipment used in medical environments requiring C18 ungrounded inlets. These inlet RFI filters are also suitable for use in laboratory, test and measurement equipment.
The filter series is designed to help medical equipment manufacturers comply with the international standard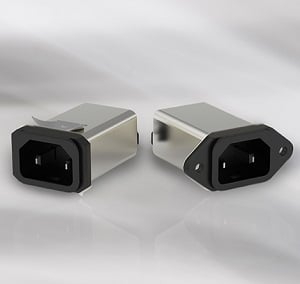 IEC 60601-1, which sets specific safety requirements for equipment designed for home use. The home medical market is expected to grow fast due to an aging population and the trend toward remote patient monitoring enabled by Internet of Things (IoT) connectivity. The Corcom filter IH series adheres to stringent safety standards and is classified as meeting 2MOPP requirements (two means of patient protection, also referred to as double insulated). The RFI filters help attenuate EMI in the frequency range between 150 kilohertz and 300 megahertz, as required by FCC Part 15 and EN55011 and EN 55022 standards.
The filtered inlets integrate a notch into the inlet to make it compatible with V-Lock locking cords, a feature that helps minimize accidental disconnection of the power cord from medical device. The 4.8-millimeter spade terminals enable rapid assembly. The Corcom filter IH series is available with snap-in mounting for quick installation or with flanges for extra-rigid mounting.