Multimedia
Power Your Design with the Ultra Compact Inlet Filter from Schaffner
22 August 2018
Schaffner EMC Inc. has expanded its product range with the single-stage FN9280 and double-stage FN9290 IEC inlet filters. The EMC/EMI filter modules with type C14 IEC appliance inlet set the benchmark due to their ultra-compact design, patented combined switch and fuse holder unit and their versatile flange mount system for fast and flexible installation. The modules are also deliverable with either fast-on or spring cage terminals.
Despite the compact design of the filter, with a height of only 46 millimeters, the combined unit with dual fuse holder provides extra space for a spare fuse. The dual pole power switch disconnects all poles of the device from the mains and can be removed for maintenance thanks to the integration into the combined unit. This feature specifically prohibits accidental connection and power-on.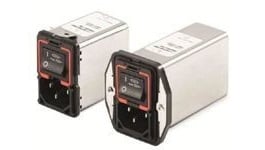 Source: Schaffner EMC Inc. For cabling inside the device, the new IEC inlet filters are available with proven fast-on tabs or spring cage terminals for faster and vibration-proof wiring.
The new flange-mount system, with either horizontal or vertical mounting holes, provides maximum flexibility for front or back mounting. Due to the RF tight joining of the flange frames with the deep-drawn steel housings, optimal shielding — even against strong magnetic fields — has been achieved.
The FN9280 series is equipped with proven single-stage EMC/EMI filters. The FN9290 series, requiring the identical panel cutout, has a double-stage EMC/EMI filter with an attenuation of up to 80 decibels and is ideally suited for applications with higher interference levels. The B versions of both modules offer a minimal leakage current of 5uA max and are suited for use in medical devices. The FN9280 series can optionally be delivered as an E version with an earth line choke for additional asymmetric interference suppression.
The new modules are designed for currents from 1 to 10 amps with a rated voltage up to 250 VAC. They are approved for worldwide use according to UL, CSA, ENEC and CQC and conform to RoHS and REACH. The B-versions comply with the requirements of the active third edition of the safety standard IEC/EN60601-1 for medical devices.
For more information visit our website www.schaffner.com or contact your local Schaffner branch office or Schaffner partner for individual advice.
Find Free Electronics Datasheets