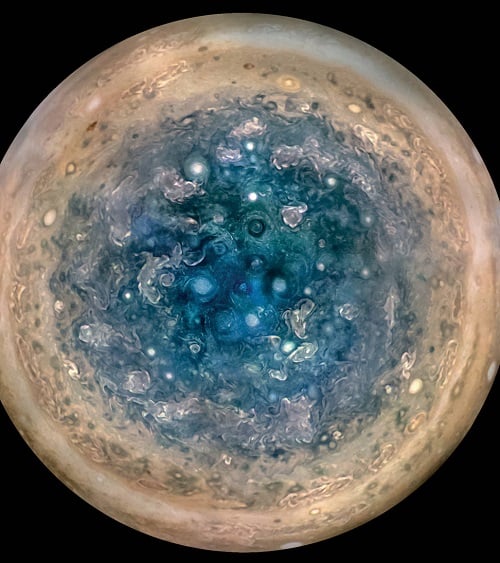 Massive cyclones were seen at both ends of Jupiter's poles by the Juno probe. Source: NASA The first science results from NASA's Juno probe mission have revealed a planet with a massive, chaotic weather system full of planet-sized cyclones, storm systems that travel deep into the heart of the planet and a mammoth magnetic field.
The findings come from the first data-collection pass, which flew 2,600 miles of Jupiter's swirling cloud tops on August 27 of last year.
"We knew, going in, that Jupiter would throw us some curves," said Scott Bolton, Juno principal investigator from the Southwest Research Institute in San Antonio. "But now that we are here, we are finding that Jupiter can throw the heat, as well as knuckleballs and sliders. There is so much going on here that we didn't expect that we have had to take a step back and begin to rethink of this as a whole new Jupiter."
Among the findings include what appears to be Earth-sized swirling storms that are densely clustered and rubbing together at both of Jupiter's poles. NASA finds this development interesting as they are unsure how they could be formed or how stable the configuration of the storms are. Is it a dynamic system or are the photos just showing one stage? NASA will watch to see if the storms change during future flybys.
Juno's microwave radiometer (MWR) showed that Jupiter's iconic belts and zones are mysterious with the belt near the equator penetrating all the way down, while the belts and zones at other latitudes seem to evolve to other structures. NASA says the data suggests ammonia is quite variable and increases as far down as the MWR can see, which is a few hundred miles.
Jupiter's magnetic field was found to be stronger than ever anticipated, Juno found. NASA has believed that Jupiter had the most intense magnetic field in the solar system but measurements from Juno's magnetometer investigation (MAG) indicate the field greatly exceed expectations at 7.766 Gauss, about 10 times stronger than the strongest magnetic field found on Earth.
"Juno is giving us a view of the magnetic field close to Jupiter that we've never had before," said Jack Connerney, Juno deputy principal investigator magnetic field investigation at NASA's Goddard Space Flight Center in Greenbelt, Maryland. "Already we see that the magnetic field looks lumpy: it is stronger in some places and weaker in others. This uneven distribution suggests that the field might be generated by dynamo action closer to the surface, above the layer of metallic hydrogen. Every flyby we execute gets us closer to determining where and how Jupiter's dynamo works.
The next flyby for Juno will take place on July 11 as it travels over Jupiter's iconic Red Spot. NASA hopes the flyby will help learn about what's going on below the swirling crimson cloud tops with Juno's cloud-piercing science instruments.
The complete science findings from Juno can be found in the journal Science.