Machine-learning algorithms have produced a detailed three-dimensional model of Zurich using only image data. The technology platform, called VarCity, creates city models using images from many sources, from tourist pictures to aerial images and YouTube.
A team at ETH Zurich worked on VarCity for five years. Model accuracy depends on the size of the image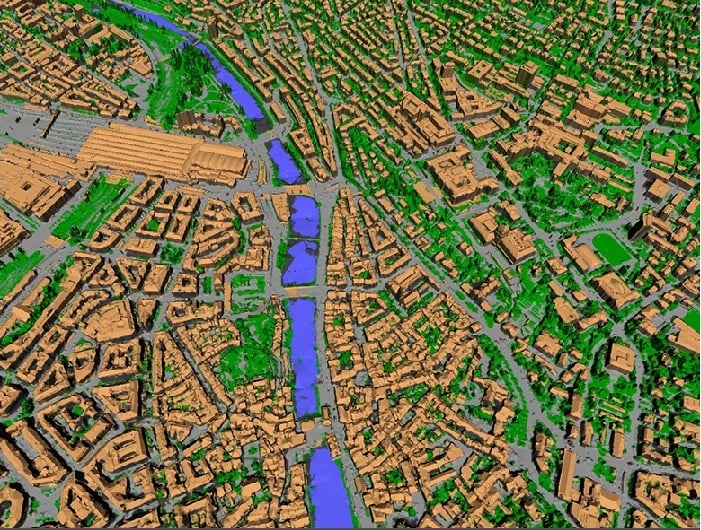 3-D model of Zurich. Image credit: ETH Zurichcollection fed into the computer algorithms. To create a model of a building, VarCity uses triangulation. This method requires multiple views of the building, hence the need for as many images as possible. The team has built the software with the expectation that, over time, users will increase the volume of images used to build models.
The technology platform that powers VarCity enables city planners to study many aspects of city life. For example, city planners can analyze vehicular and pedestrian traffic in real time, with avatars representing the pedestrians. Application users can count traffic without resorting to sensors.
"The whole thing goes so far that we can perform a highly detailed analysis of traffic flows on the street and also measure pedestrian traffic, even in real time depending on the application," explains Hayko Riemenschneider, a postdoc and VarCity project manager in the group led by Luc Van Gool, a Professor at ETH Zurich's Computer Vision Lab.
VarCity is the basis for several spin-off startup companies that offer services based on different software applications. Spectando provides virtual building inspections; Casalva, damage evaluation for insurance companies. Parquery has developed a parking management application, which evaluates video data from parking-lot cameras in real time. Thirty cities in Switzerland and elsewhere are using this application.