The first smartphone-compatible insertable cardiac monitor (ICM) has received the CE Mark and has been put to use in 10 European countries. The Abott Confirm Rx™ ICM continuously monitors a patient's heart rhythm and proactively transmits information via the myMerlin™ mobile app, allowing physicians to follow their patients remotely and accurately diagnose arrhythmias.
Wireless technology allows the ICM to communicate directly and securely to the app downloaded onto a patient's smartphone. Traditional remote monitoring has required bulky handheld or bedside transmitters, which limit patient mobility. The new interactive myMerlin mobile app replaces these passive transmitters and empowers patients to participate in their own care.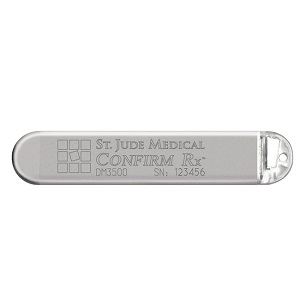 The continuous heart monitor is compatible with smartphones. Image credit: St. Jude Medical
The Confirm Rx ICM also offers intuitive one-touch indication-based programming and remote monitoring via the Merlin.net™ Patient Care Network, making the technology convenient for clinicians involved in procedure and follow up.
The myMerlin mobile app, available in over 35 languages, makes it easy for patients to stay connected to their physicians. Users can record their symptoms on their own smartphone and specify events such as fainting or if they experience a fast heart rate. Patients can also confirm their data was transmitted to their physician and get automatic alerts when they have missed a scheduled transmission, saving the clinic from having to follow up with the patient. The device also offers secure transmission of patient data.
The Confirm Rx ICM is now available in select countries in Europe, with full European release expected during the second quarter of 2017. The device is currently under review by the U.S. Food and Drug Administration.