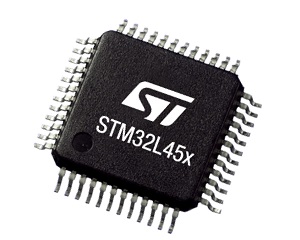 STM32L45x microcontroller series. Image credit: STMicroelectronics
STMicroelectronics has begun volume production of its STM32L45x microcontrollers (MCUs) that integrate a digital filter for sigma-delta modulators (DFSDM).
The series of MCUs—STM32L451, STM32L452 and STM32L462—enables advanced audio functions such as noise cancellation or sound localization with up to 512 Kbyte on-chip flash and 160 Kbyte SRAM for code and data storage.
The MCUs also feature a true random-number generator (TRNG) for development of security-conscious applications such as smart devices. The chips also include smart analog peripherals such as a 12-bit 5Msample/s ADC, internal voltage reference and ultra-low-power comparators. Multiple timers, a motor-control channel, temperature sensor and a capacitive-sensing interface are also included and the STM32L452 has a crystal-less USB 2.0 controller.
The microcontrollers are available now with prices beginning at $2.77 in 10,000 unit quantities.