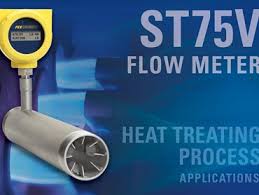 Fluid Components' ST75V (Fluid Compontents)Fluid Components International (FCI) have started stocking their ST75V Air/Gas Flow Meter. This meter solves air/gas ratio mixing problems that could improve heat treating process control, increase product output, and reduce fuel gas consumption and lower total operating costs.
FCI's ST75V Air/Gas Flow Meter offers a new solution for heat treating process control. This meter provides direct mass flow measurement for accuracy, operates over a wide turndown range and supports all common and specialty fuel gasses. It has advanced flow sensing electronics with necessary measurement accuracy and repeatability for heat treating process.
The ST75V flow meters have an in-line design, with no moving parts, and are available for use in pipe diameters from .25 inches to 2 inches. Process connection options include male NPT, female NPT, and flanged. The thermal flow meters feature wide 100:1 turn down and measure from .01 SCFM to 559 SCFM, depending on the pipe size.
The ST75 meter features Vortab® flow conditioner, which is built into the spool-piece to provide accurate and repeatable flow measurement for installations with limited pipe straight runs and operating in transitional flow ranges. The sensing element is designed with platinum RTs in small diameter, equal mass and all-metal thermowells for high accuracy, repeatability, and fast response.
This model includes an option for HART and NAMUR compliant 4-20 mA outputs and SIL compliance rating. The flow meter's transmitter/electronics can be integrally mounted with the flow element or be remote mounded. The instrument carries global Ex agency approvals for Division 1/Zone 1 instillations.
Durability is an important part of this meter. The ST75V can withstand temperatures from 0°F to 250°F. It operates at 240 psig and has a standard t-fitting process connection. With a tube process connection, the meter withstands 600 psig.
To learn more about this product, visit the site here.