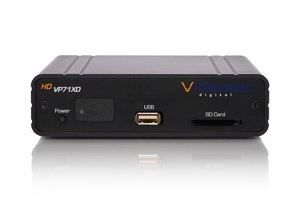 The VP71XD digital signal player. Image credit: Videotel
Videotel has released an industrial-grade digital signage media player that contains a peripheral that allows items to be elevated from a weight/scale sensor in an illuminated platform that triggers and displays video content about the item.
The elevate function is just one of five new features Videotel plans to bring to its VP71XD digital signal player. The player features auto play, auto seamless loop and auto power on without the need of a remote. The elevate function is a new way to add value to a product or item but illuminating it in a platform and providing relevant content about the item for customers.
Other solutions Videotel will be bringing to the player at a later time include "push" function that triggers content using light emitting diode (LED) buttons, the "wave" function creates an interactive display with slight hand motion, the "move" function triggers content through a motion sensor that detects human movement and the "sense" function creates an active beam to lure someone to the display.
All of these functions are out of the box and priced at under $600, Vidoetel says.