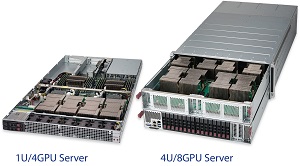 The 1U/4GPU and 4U/8GPU servers. Image credit: Super Micro
Super Micro Computer has unveiled its new GPU-based servers that are optimized for applications such as machine learning, artificial intelligence, HPC, cloud and virtualized graphics and hyperscale workloads.
The SYS-1028GQ-TXRT and SYS-4028GR-TXRT support four and eight Nvidia Tesla P100 SXM 2.0 modules, respectively and both feature Nvidia's NVlink interconnect technology.
Using these servers, companies can scale their computer clusters to accelerate the most demanding deep learning, scientific and hyperscale workloads with fast results and achieve maximum performance per watt, per square foot and per dollar, Super Micro says.
The SYS-1028GQ-TXRT implements a fully-connected quad GPU architecture with over 5x the total bandwidth of PCI-E 3.0. The server is a non-preheat GPU thermal zone design for high performance stability. The SYS-4028GR-TXRT implements a connected eight GPU in a cube mesh architecture in tandem with RDMA fabric to improve latency of data access and transfer and maximize performance.