Whether you're driving in your car, sitting in your living room, or taking pictures while on vacation with your smartphone, there is likely an array of MEMS microphones nearby waiting to jump into action at your command. The convenience of hands-free dialing, hands-free internet searches or even hands free ordering from online stores has created a rapidly growing market for these tiny devices that is both improving their performance while simultaneously lowering their cost of manufacture.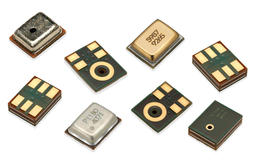 Image credit: KnowlesIn recent years, the market for MEMS microphones has exploded. Mobile devices, Bluetooth headsets, cars, and even digital assistants such as the Amazon Echo and Google Home, increasingly depend upon the high sensitivity of these tiny microphones. Fully compatible with surface mount processes, MEMS microphones tend to have a high signal to noise ratio (SNR) and a very small footprint. So small in fact, that arrays of these microphones can be used in small devices for noise cancellation or for recognizing the direction a sound is coming from. Their low power consumption makes them ideal for applications where the microphone must be constantly on to listen for voice commands.
The basic technology behind MEMS microphones has been around for a long time. As far back as 1916, capacitive microphones were being developed at Bell Labs. They consisted of air gap capacitors with a rigid backplate and a flexible diaphragm. As sound waves created pressure on the diaphragm, it flexed, resulting in a rapid change in capacitance which then was converted into an electric signal. Modern MEMS microphones are not that much different other than being smaller and manufactured in a silicon wafer process. A flexible membrane and perforated fixed backplate with a cavity between are etched on top of a silicon substrate. Changes in air pressure cause the membrane to flex creating a rapidly changing capacitance. A nearby ASIC translates the change into an electrical signal.
The output produced from the ASIC can be analog or digital. Analog MEMS microphones produce an output voltage that is proportional to the instantaneous air pressure level. Digital MEMS microphones have digital outputs that switch between low and high voltage levels. Most digital microphones use pulse density modulation (PDM) where the density of the pulses on the output is proportional to the instantaneous air pressure level. Digital MEMS microphones are less sensitive to electromagnetic interference and their increased power supply rejection ratio simplifies the design and improves audio quality.
The rapid product cycle of smart phones lends itself to digital MEMS microphones, where the analog signal components aren't present and don't need to be redesigned each new design cycle. Due to their lower cost, analog MEMS microphones were the pervasive technology until recently. Demand for digital MEMS microphones by smart phone manufacturers such as Apple and Samsung have allowed digital sales to overtake analog sales. Traditional headsets will likely still use analog MEMS microphones for a long time to come, but as the cost of manufacturing digital MEMS microphones continues to decrease, the market will continue to move more and more towards digital MEMS microphones.
Beyond consumer electronics, the medical industry is also increasingly playing an important role in the growth of MEMS microphones. As the "baby boomer" generation ages, there is increasing demand for hearing aids. These devices have traditionally used electret condenser microphones (ECM), but now often incorporate MEMS microphones instead. The dual growth drivers of technology adoption and increasing customer base in hearing aids creates a great opportunity for MEMS microphones manufacturers.
As the internet becomes an even more pervasive and interactive aspect of our lives, MEMS microphones will increasingly be present in devices in order to make them responsive to voice commands. In fact, any application requiring the detection of sound will likely involve MEMS microphones or microphone arrays. The industry's rapid growth due to smart phones, cars and hearing aids is likely only the very beginning of their takeover of all audio detection devices. Increasingly our devices will be listening for our commands, or helping us listen to the world around us and MEMS microphones will be the technology doing the work.