Virtual reality shows promise as a method for identifying individuals who are at risk for falling. The technology could also help reverse impairments and prevent falls.
A team at the Joint University of North Carolina/NC State department of biomedical engineering used virtual reality to study test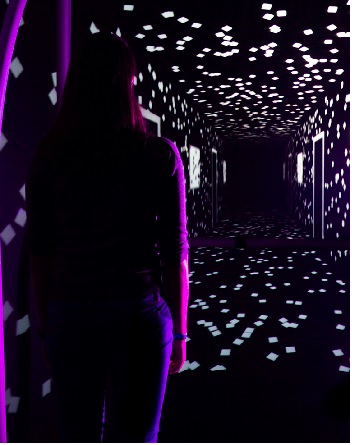 Applied Biomechanics Laboratory at UNC. Credit: UNC/NC State Department of Biomedical Engineering)subjects' reactions to experimental perturbations of their senses of balance. Unimpaired people have sensors that respond appropriately to conditions that affect balance. Those with impairments—the elderly or those compromised by neurodegenerative diseases—rely more on visual cues.
For the experiment, each participant walked on a treadmill in front of a large, curved screen that depicted a moving hallway. Experimenters manipulated the image so that participants felt like they were swaying or falling.
Participants' responses were recorded by a battery of cameras showing how participants' muscles responded to the simulated movements. Electrodes measured coordinated electrical activity among muscles that control posture and foot movement.
The experimental data provided detailed information about muscle response and the muscles and mechanisms that control walking. The detailed measurements of movements during walking can be used as references for future clinical study, to help identify individuals who could be at risk for falls.
Jason Franz, the research team lead, continues research on walking and balance, including appraising VR as a tool for physical therapists to use to teach balance. "Early work in our lab suggests it's possible to use these visual perturbations to train a person's balance control system to respond better to imbalance that occurs in daily living," Franz said.