An ultrathin multilayer film could harness the properties of magnetic skyrmions as data-storage devices on magnetic media.
The novel material resulted from collaborative research headquartered at the National University of Singapore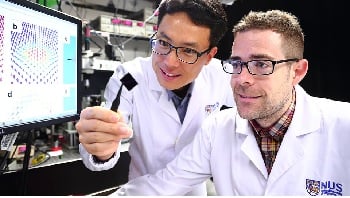 Associate Professor Yang Hyunsoo (left) and Dr Shawn Pollard (right). Credit: Siew Shawn Yohanes (NUS). Researchers believe it can play a significant role in the design of data-storage devices that use less energy and work faster than current technology.
A magnetic skyrmion is the smallest possible perturbation to a uniform magnet: a point-like region where magnetism is reversed. Scientists have studied these nanometer-sized phenomena since their discovery in 2009, intrigued by the possibility that skyrmions could become the next generation of information carriers.
Skyrmion stability has proved to be a drawback. They exist in systems with a heavy-metal layer beneath a ferromagnetic material. This arrangement creates an interfacial symmetry breaking interaction, known as the Dzyaloshinskii-Moriya interaction (DMI), which stabilizes the skyrmion. An out-of-plane magnetic field intersecting the system destabilizes it.
The NUS team created a large-enough DMI in multilayer cobalt and palladium films to stabilize skyrmions. In addition, they obtained first-time-ever images, using Lorentz transmission electron microscopy (L-TEM), an approach previously considered to inadequate.
The research results demonstrated both the usefulness of L-TEM as a method for studying skyrmions and the potential for stabilizing the structures. Prof. Yang Hyunsoo, project lead, said that "the small size of the skyrmions, combined with the incredible stability generated here, could be potentially useful for the design of next-generation spintronic devices that are energy efficient and can outperform current memory technologies."