Lithium-ion batteries are the main source of power behind most portable electronic devices today: from smartphones and tablets to lawnmowers and laptops.
The problem is t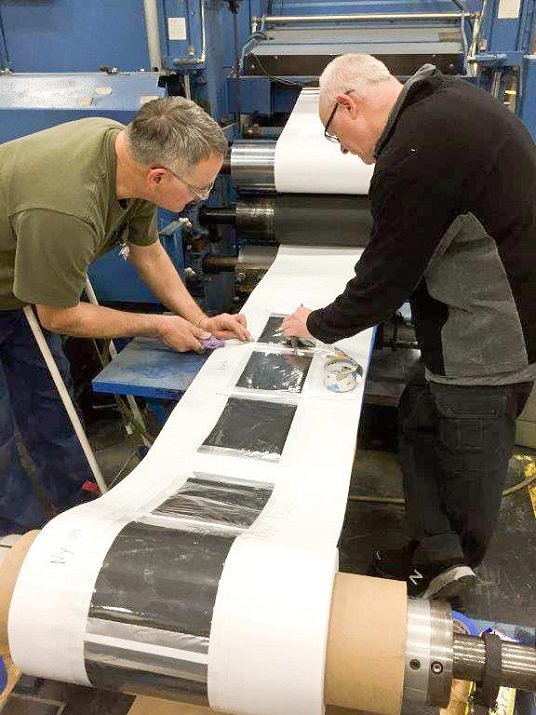 Scientists from Oak Ridge National Laboratory premate material samples for electron beam curing that instantly cross-links binding resins in coating material at a speed of 500 feet per minute. Image credit: Oak Ridge National Laboratory hat as technology advances, more pressure is being put on lithium-ion batteries to run longer, be more efficient and still be cheap to make. This doesn't even take into effect the problems the batteries have had with safety after numerous incidents with smartphones, tablets, laptops and skateboards all catching fire and injuring consumers.
Scientists at Oak Ridge National Laboratory are working to improve lithium-ion batteries by developing a method to instantly adhere cathode coating to the batteries. The development would not just improve how much energy the devices save but cut production and capital costs while eliminating the use of toxic solvents.

The process involves using an electron beam to cure coat material as it comes off the production line. This creates cross-links between molecules that bind the coating to the foil substrate without the need for solvents. The better news is that the process only takes less than a second to complete.
"Typical curing processes can require drying machinery the length of a football field and expensive equipment for solvent recovery," says David Wood, a scientist at Oak Ridge. "This approach presents a promising avenue for fast, energy-efficient manufacturing of high-performance, low-cost lithium-ion batteries."
Electrochemical tests were used to demonstrate the stability of the polymer at a potential window of 2.0 V to 4.6 V. The electrode was found to have similar voltage profiles and charge-transfer resistance compared to the conventional electrode using polyvinylidene fluoride as the binder.
When it was tested in full lithium-ion cells, the polymer showed an impressive cycling performance, indicating this binder may be able to be commercially used in lithium-ion batteries in the future, Oak Ridge says.