If you've ever seen X-Men, you know that Wolverine could heal himself, giving him a leg-up when it comes to saving the world. Now imagine your smartphone could heal itself. What a help that would be for consumers.
Now, researchers from the University of California, Riverside have developed a self-healing polymeric material that could be used in electronics and soft robotics to create self-repairing technology. The polymeric material is stretchable and transparent and can conduct ions to generate currents. The technology could one day be used to create a smartphone that can heal itself.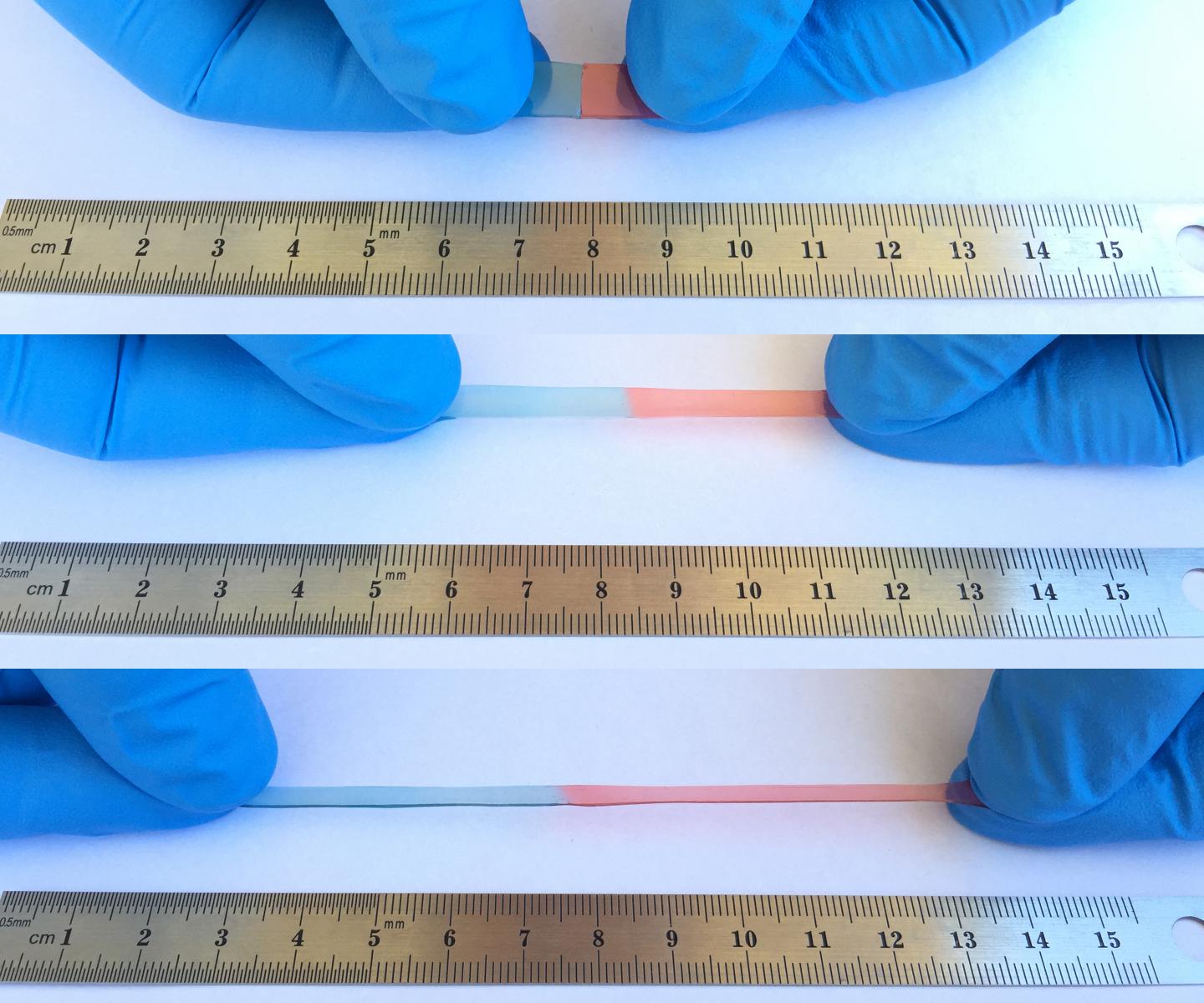 A new material not only heals itself, but it also stretches up to 50 times its usual size; these properties could fix your phone's battery if it cracks or prevent it from breaking in the first place.(Wang lab)
The key to self-repair is in the chemical bonding. There are two types of bonds: covalent bonds, which are strong and don't readily reform once broken; and noncovalent bonds, which are weaker and more dynamic. "Most self-healing polymers form hydrogen bonds or metal-ligand coordination, but these aren't suitable for ionic conductors," said Chao Wang, Ph.D., who led the research.
Wang and his team turned to a different type of non-covalent bond called an ion-dipole interaction, a force between charged ions and polar molecules.
"Ion-dipole interactions have never been used for designing a self-healing polymer, but it turns out that they're particularly suitable for ionic conductors," said Wang. The key design idea in the development of the material was to use a polar, stretchable polymer, poly(vinylidene fluoride-co-hexafluoropropylene), plus a mobile, ionic salt. The polymer chains are linked to each other by ion-dipole interactions between the polar groups in the polymer and the ionic salt.
Wang said that the material's cost has yet to be determined, but he thinks that cost will be low because the material is created out of preexisting materials. At this time, there are no competing materials on the market. Wang says that there are already self-healing materials on the backs of LG phones. These materials heal scratches when a user drops them, and are not quite as advanced as Wang's.
The ultimate goal for the material is to create self-healing lithium batteries and other products for cell phones. Before this can happen, there are a few obstacles that the team needs to overcome. It needs to ensure reliability as well as discover how it withstands extreme conditions. Currently, the material cannot self-heal under any strong humidity. Wang and his team are testing material under all extreme conditions, searching to make it as hydrophobic as possible.
Wang's research could change the cell phone industry dramatically.
The work was presented at the 253rd National Meeting & Exposition of the American Chemical Society (ACS).