Engineers from the University of California, San Diego (UCSD) have developed a new magnetic ink that when printed can be used to create self-healing batteries, electrochemical sensors and wearable textile-based electrical circuits.
The key to the magnetic link resides in microparticles that can be oriented into a configuration by a magnetic field. The way they are oriented is important because the particles on both sides of a tear are magnetically attracted to one another, leading to the device being printed with the ink to heal itself. Engineers at UCSD say the devices can repair tears as wide as 3 millimeters, something that has never been accomplished before in self-healing devices.
Current self-healing materials use an external trigger to begin the healing process and take anywhere from a few minutes to a few days to work. However UCSD's method does not require an outside trigger and damage is repaired in about 50 milliseconds.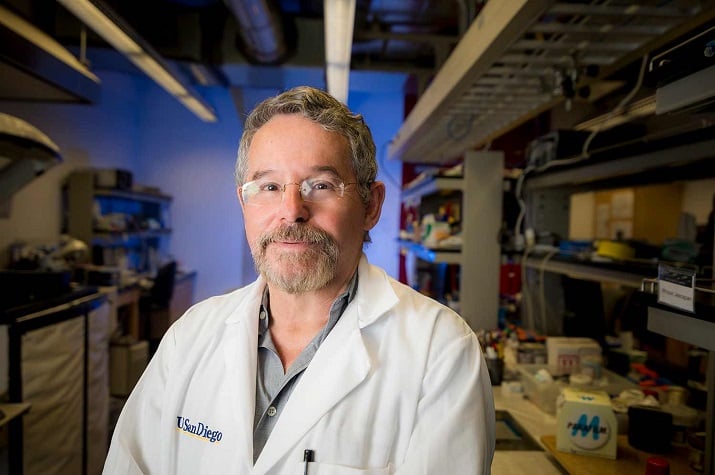 Joseph Wang, director of the Center for Wearable Sensors and chair of the nanoengineering department at UC San Diego, developed a process that self-heals in milliseconds. Source: UCSD After printing numerous devices based on the magnetic ink, the engineers tested the devices by damaging them repeatedly in the same location. They also damaged the device in four different places. In each instance, the devices healed themselves and recovered their function without losing much of their conductivity.
One example used by UCSD is a printed self-healing circuit that was placed on a sleeve of a T-shirt connected to an LED (light-emitting diode) light and a coin battery. The team then cut the circuit and the fabric on which it was printed. The LED lost power but within a few seconds, it started turning back on as the two sides of the circuit repaired themselves, restoring the connection.
How They Did It
Joseph Wang, director of the Center for Wearable Sensors and chair of the nanoengineering department at UCSD, says the UCSD engineers loaded the ink with microparticles filled with a magnetic commonly used in research made of neodymium. The particles' magnetic field is much larger than their individual size, and this magnetic attraction was key to the particles closing tears that were millimeters wide.
These same particles not only conduct electricity but also are relatively inexpensive, but because they have poor electrochemical properties, engineers added carbon black to the ink, a common material used to make sensors and batteries.
One problem with this method was that the microparticles in their natural configuration canceled each other out. So the engineers used an external magnetic field to ensure the particles oriented themselves to behave as a permanent magnet, with two opposite poles at the end of each printed device.
Future testing will involve the engineers making different inks with different ingredients for a wider range of applications. They also plan to test different self-healing ink recipes using computer simulations before trying them in a lab environment.